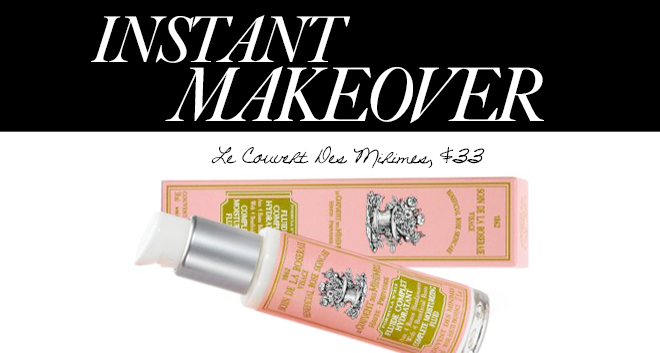 Occasionally we come across a product that bestows an immediate glow, changing our look (for the better!) in an instant. Since we'd be remiss to keep them to ourselves, we highlight these genius finds in our Instant Makeover series.
Winter is killer on the hands. When skin gets dry, flaky and itchy, constant moisturizing is a must. I'm not too picky when it comes to lotion — I'll try anything. But when my skin is super dry I have two non-negotiables — my moisturizer has to be long lasting, and it shouldn't leave a greasy residue. From washing my hands with hot water to walking from the cold outdoors into a heated building, my hands dry up quickly — even after applying lotion. And typing on a computer all day, the last thing I want is to get my keyboard all slick with moisturizer. 
After testing out a bunch of options this season, I've found my top pick — Le Couvent Des Minimes Complete Moisturizing Fluid ($33, usa.lecouventdesminimes.com). Although marketed for the face, I've been using it on my hands and love it. The light formula absorbs into the skin instantly — no greasy residue at all — and lasts hours. I reapply if I step outside for lunch, but other than that, my hands stay hydrated even after washing. Plus, it leaves my hands super soft. Last week while doing a co-worker's hair (for our ponytail shoot!), she said, "Wow, what do you use on your hands? They're as soft as a baby's bottom." Yes, direct quote. Even that would be enough to keep me hooked.
Read more: Why Your Dry Skin Has Breakouts — And How to Treat Them