Laura, a 22 year old Parisian student, traded in her long wild curly hair for a sophisticated sleek bob. Here, she shares her makeover experience.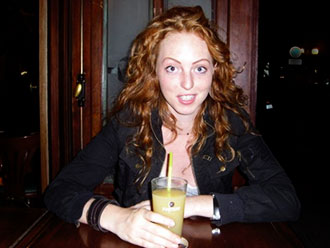 The Mane – Laura Before
Why did you want amakeover?
I've had the same long curly hairstyle for more than six years and have been wanting a change for a long time. And the truth is, I really loved my long hair, but it was so damaged that it became a necessity to cut it. So my intentions were both aesthetic and practical. Fortunately, I saw an ad for a FREE cut for models in the college newspaper, and I went for it.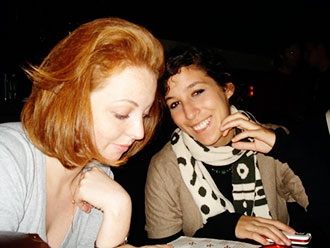 Laura After – Trs Chic!
Do you love having short hair?I love it as much as I loved my long curly hair. Now that my hair is healthy, I'll take good care of it. Every time I wash it, I condition the ends too. I've started to usePhyto styling products because they are very nourishing.
Is your new bob easy to style?
Actually, I've never been able to recreate a perfectly straight style like my stylist did, but I get close. I use a relaxing balm to smooth out my curls and it only takes me 10 minutes to blow-dry. Sometimes I get tired of straightening it, so I put it back a in cute ponytail.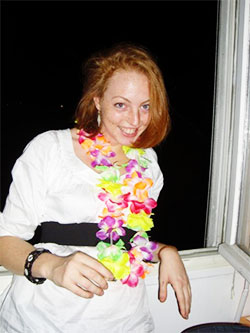 How do your friends like it?
At first, my friends were totally shocked. They think I look more grown-up and serious, and they missed the fun side of me. But once they realized that my hair has nothing to do with making me less fun, they started to love it too.
What kind of reaction are you getting from guys? Are you single or in a relationship?
Boys love my new haircut! They think it's sexy. I was in a relationship not too long ago, but now it's finished. Maybe my wild hair drove him crazy. 😉 We'll see what happens with the next one.
Thank you for sharing your makeover! I'd like to upgrade you to All-Access Membership so you can try on all of our celebrity bob hairstyles for styling inspiration.
Great, thanks! I will definitely use it!
Now That's A Makeover!Rachel
NOTE: If you would like to share your own real-life before & after pictures like Laura's, email them to editorial@dailymakeover.com. If your makeover gets selected for a blog post, we'll follow up with an interview and give you a free All-Access membership.
As one the web's largest beauty sites, DailyMakeover.com constantly receives products from beauty companies for editorial review. Please read our Editorial Ethics Pledge if you'd like to know how we select products to feature.