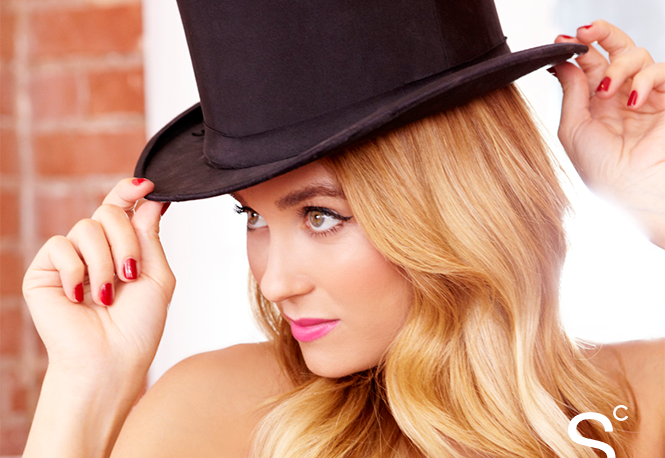 Lauren Conrad, the reality TV star-turned-fashion designer-turned-beauty guru, has created an empire in her own right. With a growing list of books, web sites and fashion lines already under her belt, Conrad is also showing no signs of slowing down.
After honing her beauty skills on "The Hills," Conrad has teamed up with her longtime hairstylist and makeup artist Kristin Ess and Amy Nadine respectively to collaborate on their site, The Beauty Department, as well as a beauty book, "Lauren Conrad Beauty." Conrad has become a master in applying the cat eye (her go-to makeup look), but also seems willing to try any big beauty trend once—she made headlines this past summer, for example, when she dip-dyed her long blond locks.
Conrad recently opened up her office to StyleCaster News, treating them to a behind-the-scenes look at her crafty office decor (and her new holiday line for Paper Crown). The 26-year-old star was also generous enough to give us a few pointers on her go-to beauty looks, must-have products, and the story behind those long salon sessions with her stylists …
Beauty High: Is there a beauty trend that you're anxious to try next? People obviously know you for your cat eye. What else are you thinking about trying?
Lauren Conrad: My makeup usually stays the same. I'm one of those people who kind of found what works for them and sticks with it. I'll tinker a little bit, mostly with color on my face. I usually stick with a very similar eye. I do experiment with my hair though!
If you're going out at night, what products do you stick in your clutch?
I always bring a loose powder with me, something more lightweight, and depending on my lip color I'll either do a gloss or a lipstick, but other than that, I think that's pretty much what I stick with. I like low-maintenance makeup.
You obviously spend a lot of your time brainstorming with your hairstylist, Kristin Ess since you also work together on The Beauty Department. Where else do you find yourself hanging out in around LA?
My salon is a favorite hangout – my hairstylist actually opened her own little studio. It's fun. She's fantastic. She's a close friend. She's very flexible with my schedule so we'll both be working all week, and I'll go in there at like 7 at night, and my hair takes seven hours to do sometimes so we'll like order takeout and drink champagne. We also like fool around with it and have fun, so it probably takes a lot longer than it should. I love her studio, and she did a really nice job decorating it.
Check out the full editorial spread (and more information about Conrad's fashion line and empire) on StyleCaster News!
[Photo by Steve Erle]