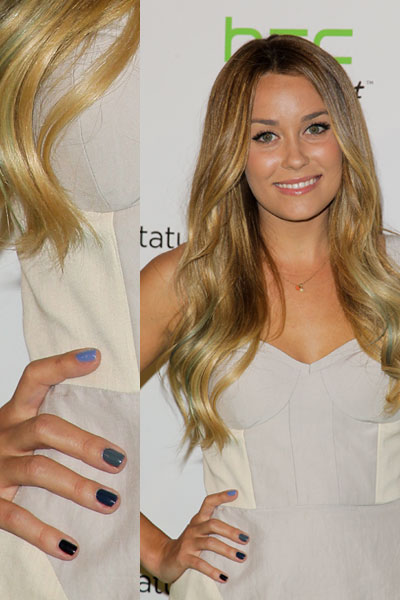 Photo: © Credit: Noel Vasquez/Getty Images
Looks like Lauren Conrad is trying to ditch her girl-next-door image in favor of an edgier, more fashion-forward vibe. The former Hills star has been seen around town sporting edgy beauty trends that are a far cry from her usual California Girl style.
While I'm not sure what I think of her icy blue hair highlights, I am definitely on board for that cool ombré manicure. LC used varying tones of grey on each nail to create a cool, gradient effect that has me mesmerized. I had to give this nifty nail trend a try, so I decided to replicate it at home.
Find out what your nail polish says about your personality!
This is actually a surprisingly easy look to recreate. All you need is five nail polishes from the same color family, a steady hand and a little bit of patience. To get this ombré mani, I applied the following polish shades, one on each nail: Sally Hansen Insta-Dri Fast Dry Nail Color in Whirlwind White, CND Nail Colour in Miss Wu, Rescue Beauty Lounge Nail Polish in Stormy, CND Hyde In The Dark (an oldie but a goodie) and Chanel Le Vernis in Black Satin.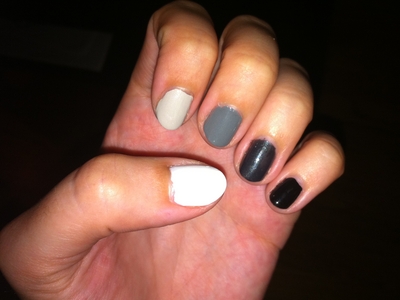 Start with the lightest shade on your thumb and gradually move deeper in color so that the very darkest hue is on your pinkie.
While I stuck to Lauren's gray palette, this trend could definitely look cool in a variety of colors. Purple would be a great end-of-summer option, while neutrals would look chic and sophisticated for fall. Or try red for a daring and super-sexy effect. The possibilities are endless!
What do you think, did I nail this look?


Try on Lauren Conrad's hairstyles in the Makeover Studio!