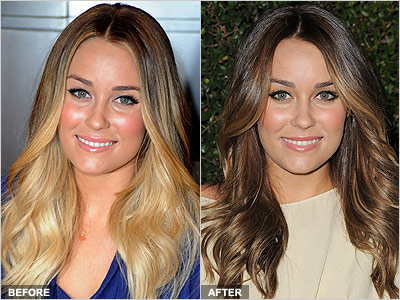 Before: © Frazer Harrison/Getty Images
After: © Jordan Strauss/WireImage
Lauren Conrad has ditched her beachy blonde locks in favor of a richer, more natural brown hair color. The former Hills star and current author/fashion guru popped up on the red carpet last week sporting a dark brown hair hue that's a far cry from her usual flaxen locks.
We love the dark brown on LC–it looks glossy and healthy, flatters her complexion and makes her gorgeous eyes pop. Celebrity colorist Rita Hazan is also a fan of Lauren's new color. "I like it! It looks natural and sophisticated. It still has depth and is multi-dimensional, so it's soft and not harsh on her skin tone," she says.
Thinking of trading in your blonde hair for a brunette 'do? Rita has a few tips to help you get the best results. "It's hard on the hair to go back to blonde since you have to strip it, so make sure this is something you really want to do. Don't go too dark at once–do it in stages. You can always go darker. Adding highlights to your new color will make it look more natural and not dense."
What do you think of Lauren's hair color makeover?
<a href="
/virtual-makeover/celebrity-hairstyles/lauren-conrad"&gt/
;

Try on Lauren Conrad's hairstyles in the <a href="
/virtual-makeover/celebrity-hairstyles/lauren-conrad/" title="Lauren Conrad">Makeover Studio!