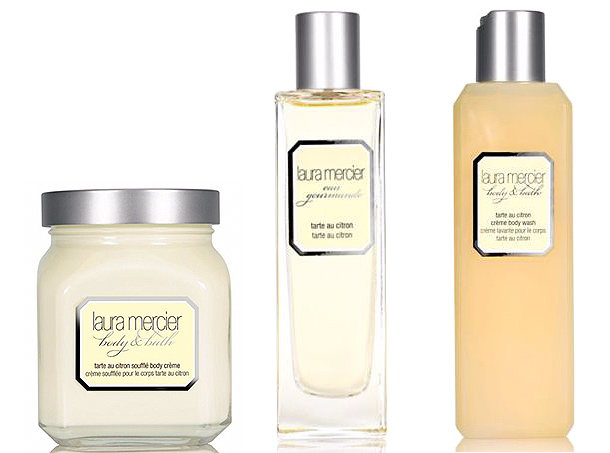 A good gourmand scent is hard to find. For most of us, it's a matter of wanting to smell light and sweet, but not overpoweringly like a pastry. Even if we're smitten with vanilla, smelling like food is never really what we want out of a fragrance. The best gourmand scents are offset by something decidedly not so saccharine, a note that "cuts through" the sweetness and turns it into something a little more complex—like, say, lemon.
Now, some people avoid gourmand fragrances for that very reason. They can be heavy and overly sweet and, well, off-putting. We weren't totally sold on them previously, and had been known to turn our heads away from anything that smells even remotely like Thierry Mugler Angel. And then we met Laura Mercier Tarte au Citron, a full line of scented bath and body care—a luscious body cream, a body wash, and an eau de toilette—and changed our tune. In fact, we abandoned our tune entirely.
We can't promise that everyone with a biological aversion to gourmand scents will fall as head over heels with this line as we have, but it's certainly worth a try. It smells just like a lemon tart, sweet but not overly so, and it's not overpowering in the least. The bright, citrusy note really plays well with the sweeter components, so there's something really light and fresh about it that doesn't read too "young." Really, it's delicious—and the formulas are also just as good. The Crème Body Wash hydrates as it cleanses, so it never leaves your skin with that dry, tight feeling, and the Souffle Body Crème has a silky, lightweight texture that melts right into the skin and leaves no residue behind.
Basically, we're obsessed with this new line, and we'll go right out on a limb and say it's the best-smelling bath and body collection we've ever tried. It's the perfect scent for spring and summer, and wearing lotions and light eau de toilettes is a great way to wear scent without going overboard. We also can't not mention the obvious: Tarte au Citron has all the charm and satisfaction of stepping into a French patisserie, without the calories. We can't imagine anything better.
Read more from Daily Makeover: A Guide to Perfume for the Non-Perfume Wearer