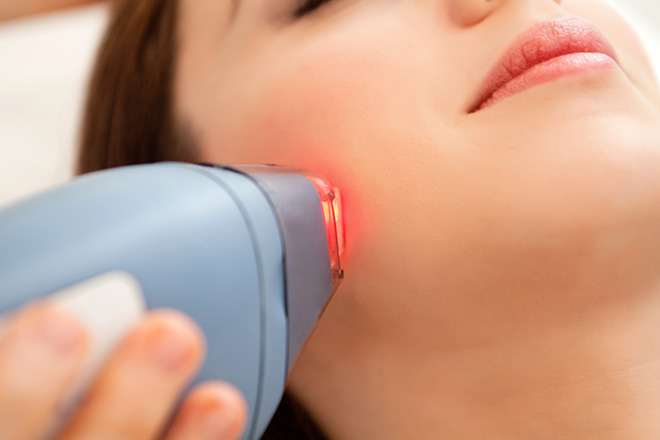 While the word 'laser' may inspire thoughts of space movie props (or lights in a trendy night club), these tools are most effective in a dermatologist's office. But with so many options, how do you know which lasers – if any – are right for you? Instead of navigating unknown territory, get familiar with this basic breakdown of these highly beneficial high-beams for face and body.
Fraxel and Yag
What they do: By targeting water in the epidermis and dermis — with different wavelengths of laser light — tiny zones of energy induce new collagen formation, and therefore, skin tightening. Results include smoother, tighter skin and fewer wrinkles.
Who is a candidate: Patients who have pitted acne scars, fine lines and wrinkles, or want a more even skin texture. The technology can be used on body scars or stretch marks (using different settings).
How it works: By making the laser beam fractionated, it makes microscope thermal zones of tissue destruction in the epidermis and dermis of the skin, which heal up faster and with less risk of scarring than the older traditional lasers, (which took a longer time to heal and had higher potential for scarring and depigmentation afterwards).
Cost: $500 – $1,000 per treatment, based on the size of the area.
Recovery time: Depending on the aggressiveness of the treatment, patients may be red and puffy for as little as two days or as long as two weeks, according to Dr. Anthony M. Rossi, a certified dermatologist based in NYC. He notes that peeling can occur as the area heals, and collagen remodeling in the dermis — a.k.a. the baby smooth results — can take about three months.
Laser Genesis
What it does: Reduces the appearance of wrinkles and corrects redness and rosacea.
Who is a candidate: Patients with premature signs of aging and sun damage, such as excessive redness and fine line wrinkles. It's also appropriate for young patients who want to maintain their skin.
How it works: By gently heating the upper dermis below the skin's surface, the laser stimulates collagen production to improve fine lines, diminish redness and give the skin glow, says Dr. Debra Jaliman, a board certified cosmetic dermatologist based in NYC.
Cost: $500 per treatment
Recovery time: None
Medlite
What it does: Used to treat brown spots, dramatically shrink pore size and improve scars, it also builds collagen to lift and soften fine lines on the face, tighten "crepe-y" or loose skin around the eyes and significantly improve wrinkles around the mouth.
Who is a candidate: The laser is safe to use on all skin types, including Caucasian, African American, Hispanic and Asian skin.
How it works: Laser energy penetrates deeply without injuring the outer layers of skin, and the deep dermis is stimulated to produce new collagen, says Dr. Jaliman.
Cost: $750 per treatment
Recovery time: None
Ulthera
What it does: Helps skin regain its firmness and elasticity.
Who is a candidate: Men and women with slackened skin who are not ready to move forward with a facelift. It's also for patients who are looking for preventative care.
How it works: The non-invasive treatment uses ultrasound technology to lift and tighten the skin and to stimulate collagen production, says Dr. Stafford Broumand, NYC based Plastic Surgeon and Associate Clinical Professor of Plastic Surgery at the Mount Sinai Medical Center. A special device is guided along the skin to administer a heating effect to the underlying tissues.
Cost: $4,500 – $5,500, per treatment
Recovery time: It takes up to 90 days to see the results and there is little to no downtime, however, some swelling, redness and bruising may occur.
Clear & Brilliant
What it does: This laser is a lighter version of Fraxel, according to cosmetic dermatologist Dr. Paul Jarrod Frank, who says it resurfaces skin and reduces pigment and sun damage.
Who is a candidate: Anyone looking to rid sun damage.
How it works: The laser uses fractionated technology to restructure the skin without destroying its top layer.
Cost: $550 per treatment
Recovery time: Redness subsides within a couple hours (yep, you can go right back to work). Skin may be flaky for three to four days.
Pulsed Dye
What it does: It combats redness and red scars, and it is best for rosacea and sun damaged skin with broken capillaries.
Who is a candidate: The laser is appropriate for all but African-American skin.
How it works: It works by gently heating and closing capillaries to remove redness, says Dr. Elizabeth Tanzi, board certified dermatologist and co-director of the Washington Institute of Dermatologic Laser Surgery in Washington, DC. A series of treatments is required for the best response.
Cost: $250+ per treatment, depending on the size of the area
Recovery time: Patients can expect a few hours of pinkness.
Read more: The Incredible Pore-Shrinking Clear + Brilliant Laser: We Tried It