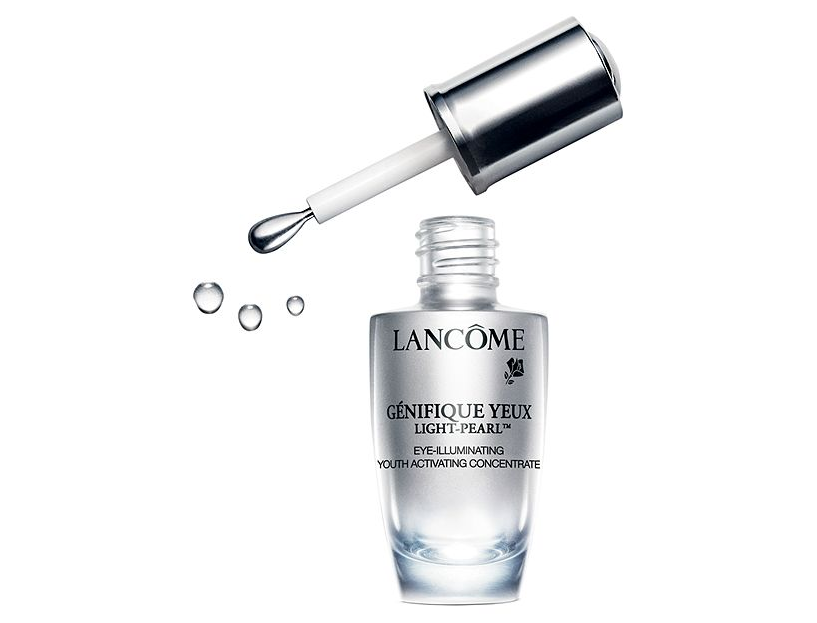 At Beauty High we constantly have new products crossing our desks and are always on the hunt for the next best thing. "The One Thing" is our way of sharing with you that must-have product that you need to introduce to your lives right now, even if it means skipping Starbucks for a couple of days.
Between stressful days at work and long nights with friends, all too many women fall into the trap of overextending themselves, which can lead to your skin looking dull and in need of some TLC. With all of the stress, lack of sleep and dehydration due to caffeine, ladies on the go tend to be dealing with some puffy under eyes and dark circles. Finding a great concealer and knowing how to properly conceal dark circles is a necessary skill to have, getting to the source of the problem is an even better fix. When we came across the Lancome Genifique Yeux Light-Pearl Eye Illuminating Youth Activating Concentrate, our eyes practically squealed with joy.
What Makes It Different: 
The applicator is a metal ball on a swivel stick, so it curves with your eye to give a complete 360 degree massaging application while the metal cools and soothes the areas.

While it's proven to have effective anti-aging properties, it's appropriate for any age because it targets under eye bags and dark circles.
It not only makes skin smoother and deflates bags, but it also illuminates your skin, making it look like you actually got sleep after a Saturday night out with the girls.
Why It's The One Thing: 
Anything that can make us naturally look brighter and less puffy gets an "A" in our books, but we especially love this product for the massaging applicator that reaches every corner of the area surrounding your eye while massaging, cooling and soothing. Getting to use this product after a long day is something we look forward to, because it feels great going on and the eye looks great once the Light-Pearl applicator has done its job.
Where to Buy: Lancome Genifique Eye Light-Pearl Eye Illuminating Youth Activating Concentrate, $68, Lancome-USA.com