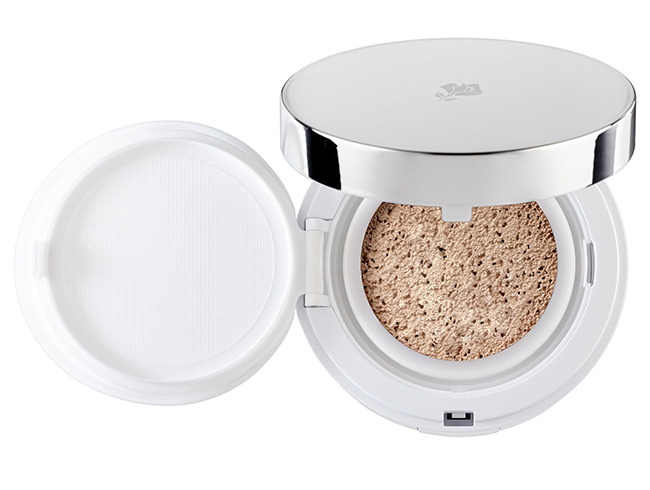 If there are two things we love, it's K-beauty and Lisa Eldridge. So imagine our delight when the two happened to coincide at the Lancôme HQ—that's how we imagine this new Miracle Cushion came about. Much like the popular BB cream-filled cushion compacts from many Korean beauty brands, Lisa's Eldridge used her new position as Lancôme's global creative director to bring to us the Lancôme version of a cushion compact—the Miracle Cushion. If good things come in small packages, we imagine that miracles must come in sleek compacts.
MORE: Lisa Eldridge Is Now Lancôme's Global Creative Director
What Makes It Different:
It's a liquid foundation in a portable compact. The foundation is stored in a spongy cushion in the compact within a sealed compartment upon which a dense sponge makeup puff rests for application.
You don't have to worry about foundation spilling in your purse or separating from itself in this packaging. You can touch-up on-the-go with the ease of powdering your nose.
As far as foundation formulas go, this has the lightness and dewy finish of a BB cream or tinted moisturizer with the stay-put buildable coverage of your most hardworking foundation. It's win-win!
Why It's The One Thing:
Finally, we can travel with foundation and NOT worry about the stuff leaking, separating, or otherwise being difficult to apply on-the-go. Other than the genius packaging of a cushion compact, this foundation from Lancôme is one of their best, being that Lancôme's foundation game is tiers above the rest, with shades that match ANY skin tone from the fairest fair to the deepest deep. This one is available in 11 shades with warm/cool variations going up and down the spectrum. Very versatile, indeed. It's the perfect combo of performance and range of a professionals-only makeup company with the luxury feel of a high-end beauty brand. You can apply this with the included sponge/pad, or you can just use your fingers! And if you feel that the cushion is running low on foundation, you can just flip it over and voila—more product that's been untouched. The cooling sensation upon application is perfect for the coming warmer weather.
MORE: How To Wear Foundation If You Hate Foundation
Where to Buy: Lancôme Miracle Cushion Foundation, $46.50, Lancome-usa.com