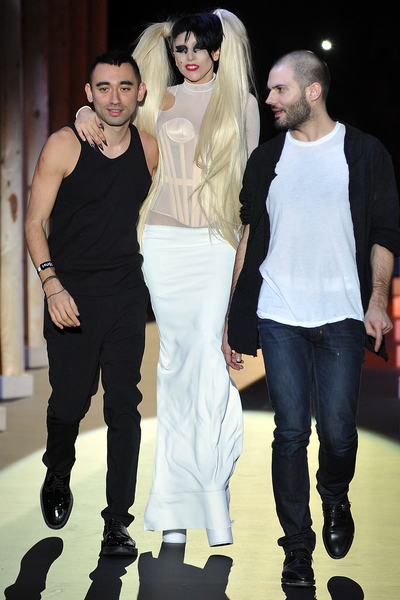 !nl!/>
Photo: © Francois Durand/Getty Images
Lady Gaga made her modeling debut at Paris Fashion Week yesterday. The "Born This Way" singer strutted down the runway at the Thierry Mugler show in an outfit comprising of a sheer black dress and military-inspired hat, after making her entrance through a cloud of cigarette smoke.
The 24-year-old star walked confidently down the catwalk while her new song, "Government Hooker," blared from the speakers. She joined supermodels including Jessica Stam, Coco Rocha and Alek Wek on the runway, who were all styled similarly to Gaga, with flowing peroxide ponytails or white-blonde devil horns, while lip-synching to the music. She then made a second appearance modeling the final look–an unconventional "bride"–in a white corseted dress and lampshade hat.
Gaga said she was terrified before the show and told Mugler creative director Nicola Formichetti she was feeling the pressure. She said to him, "You have no idea how much respect I have for you and for all the models, which is why I'm so f***ing nervous. If I vomit on the stage, it will be good press."
Formichetti–who designed Gaga's infamous meat dress–is masterminding a
revival of the famous 80s label and his debut womenswear collection for the
brand has been highly anticipated.


Try on Lady Gaga's hairstyles in the Makeover Studio!