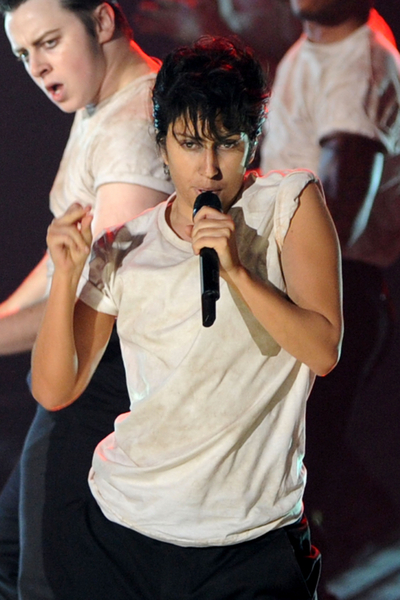 Photo: © Kevin Winter/Getty Images
Part makeunder, part sex change, Lady Gaga's new look for her latest single "You and I" is that of her very macho male alter-ego, Jo Calderone, who made his debut performance tonight at the 2011 MTV Video Music Awards. Yes, Lady Gaga went as a greaser guy and, wowza!, the kahunas of her, um his, performance was very persuasive.
Check Out More Lady Gaga Shocking Style Makeovers!
With greased back black hair, dark eyebrows and furry sideburns, she looked uncannily like Ralph Macchio in The Outsiders, but the makeover is more likely a nod to Bob Dylan (even though the performance was a total Elton John moment.) Later in the show, Jo Calderone got quite fresh with Britney Spears, but didn't manage to close in on locking lips. Britney, we expect more from you!


Try on Lady Gaga's hairstyles in the Makeover Studio!