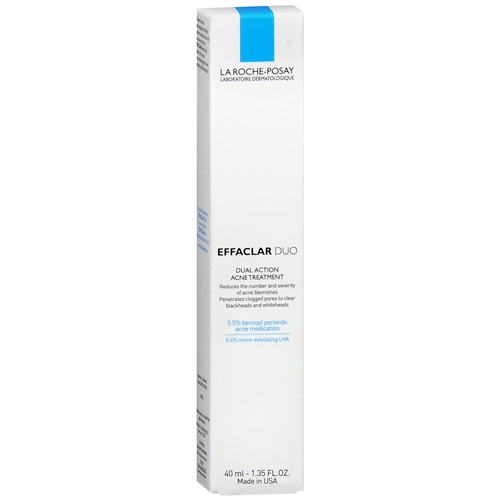 You know how you see the "bestsellers" and "most popular" products in beauty stores, so you of course scoop them up, but then you realize you have no idea how to work them? In "How It Works," we're going to explain to you exactly how to get the best use out of your products, whether they are cult classics or hot off the conveyer belt must-haves. We'll teach you the basics, as well as a few industry expert tips to make sure you're getting the most out of everything you buy.
When you're dealing with insane breakouts, you'll reach for the nearest product that swears it'll help. The only problem is that many products actually do just the opposite, and especially when you're over-applying and rushing to clear up a blemish, your skin winds up being worse for the wear. So, what's the best course of action? Have a product on-hand that'll be your go-to in a time of need.
When we tried La Roche-Posay's Effaclar Duo Dual Action Acne Treatment, we knew we had stumbled onto greatness. Here's why we love it so much — and exactly how it works.
MORE: Beauty Recipe: Winged Eyeshadow
Product Perks: 
Whether you're dealing with blackheads, whiteheads, clogged pores, or blemishes, the acne treatment works to clear skin.
Acne-fighting ingredients are combined with moisturizers so your skin won't get dried out.
While it fights the acne, it works to exfoliate and smoothen out your skin.
How It Works: 
Apply the treatment to a clean and dry face. Depending on how severe your acne is, you can use it on your entire face or as a spot treatment. Here's the main reason this acne treatment is effective: Pores are typically about the same size molecularly, and many other acne treatments contain ingredients with high percentages, and the molecules are actually twice as large as the pore. The La Roche-Posay treatment's ingredients are molecularly just a bit smaller than your pores, so they can actually get into the pore to treat the acne, as opposed to sitting on top of the pore and being too large to be effective. Plus, if you're using this product and your acne clears up, it won't come back if you stop using the product.
Where to Buy: La Roche-Posay Dual Action Acne Treatment, $37, Drugstore.com