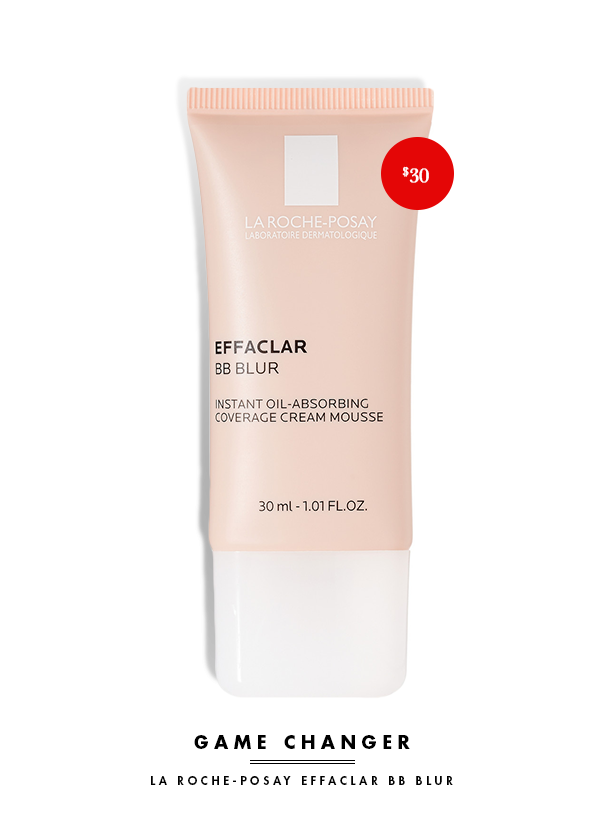 Up until BB creams hit the drugstore, I didn't wear any sort of complexion product save a dab of concealer under my eyes. BBs were my first foray into face makeup. They evened out my skin tone, shielded imperfections, and felt light enough that I didn't notice I was wearing anything at all. I would still much rather slather on a tinted moisturizer or cream than even touch foundation, and I'm always on the look out for new takes on what has become one of my daily makeup essentials.
Enter La Roche-Posay's Effaclar BB Blur ($30, laroche—posay.com)—a light coverage product that gives me insanely perfect skin. What makes it different to other BBs I've tried is that it includes a blurring element; it's basically Photoshop for your face, hiding uneven texture, wrinkles, and fine lines; adding that to a gorgeous lightweight yet concentrated makeup is a match made in heaven.
And let's talk about that lightweight formula, because it's amazing. When I first squeezed the product out of the tube onto my fingers, I was definitely skeptical that it would be hard blend–it looked more like an airy mousse than a liquid or a cream. But that textureallowed it to glide over my skin and blend in with a matter of seconds, and I didn't even need to use a brush or a sponge.
It completely evened out the rosy spots on my cheeks, but even more impressively, my skin looked (and felt) so smooth. It's also oil-free, perfect for those who are prone to breakouts—and even better, it actively works to absorb oil thanks to an ingredient called airlicium. That happens to be what also creates this BBs beautiful matte finish.
And while it does give you that filtered look, there are some downsides if you live for multitasking products. It doesn't include any sun protection, so you'll still need to slather that on in addition. It also only comes in two shades, Fair/Light and Light/Medium, so there's not that much variety when it comes to perfectly matching your skin tone.
I've been using it regularly, with a few breaks here and there to let my skin completely breathe. My favorite time to use it, though, is when I'm wearing a bold lipstick shade, and I really want it to pop against my skin. That fabulous blur has yet to do me wrong.
More From Daily Makeover: 3 Daily Habits Ruining Your Skin