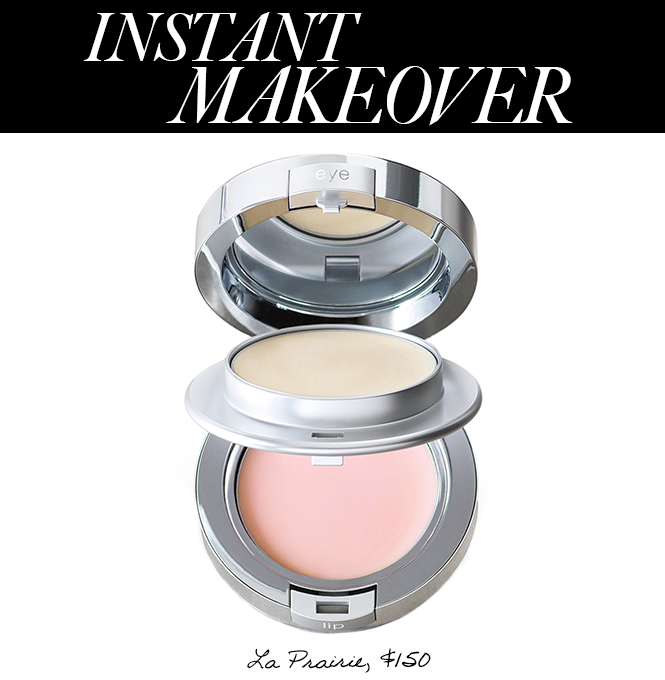 Occasionally we come across a product that bestows an immediate glow, changing our look (for the better!) in an instant. Since we'd be remiss to keep them to ourselves, we highlight these genius finds in our Instant Makeover series.
Most of us apply eye cream once in the morning and then forget about the skin around our eyes until bedtime. If your skin is on the dry side, this can leave your eye area parched and crepey, and in serious need of a pick me up.
What would happen if you moisturized your eyes as often as you slicked on lip balm? La Prairie's new Anti-Aging Eye and Lip Perfection à Porter ($150, laprairie.com) makes it easy to find out. The dual-sided compact contains a silky balm for lips on one side, boosted with essential plant oil and dehydrated hyaluronic acid microspheres, and an Eye Contour Cream-Gel on the other.
With its smooth texture and light-diffusing finish, the cream-gel can go over foundation and concealer to blur fine lines and take care of the cakiness that can happen when makeup settles into crow's feet and fine lines. It works brilliantly as a cheekbone highlighter, too. And the white leatherette zip case makes the duo a luxe addition to your purse. Your lip balm addiction may have just met its match.
Read more: How to Apply Eye Cream, The Right Way