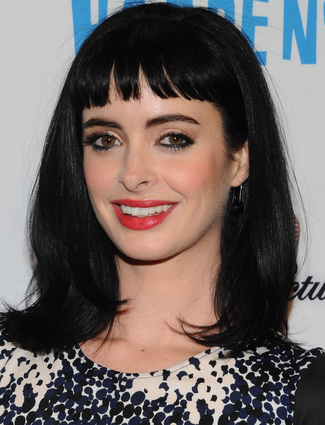 Photo: Michael Buckner/Getty Images
You've probably heard the saying, "You are what you wear" but personally, I believe this refers to our makeup, as well as our fashion choices. No two people wear their eyeliner the same, not to mention color choices.
I'm bringing this up because last night I went to a screening of "Life Happens," starring Krysten Ritter, Kate Bosworth and Rachel Bilson. Before the movie started, Krysten and the film's makeup artist, Amy Nadine, chatted with us on the film's inspiration and, of course, the makeup and how it helped to define each character.
Vlogger Julie G Designs A Nail Collection
Krysten, the star of the soon-to-premiere sitcom Don't Trust the B—- In Apartment 23, and her best friend Kat Coiro wrote the film together. "Kat and I were trying to do the female version of Swingers," said Krysten. "You come across many double standards, because the girls come off slutty. So Kat did us both a favor and got pregnant and had a baby."
The film centers around Krysten's character Kim who becomes a single mother and learns the hard way that a life of getting drunk, staying out late and bringing a new guy home every night has come to an end.
Although costume designers get all the spotlight, Krysten and Amy reminded us that makeup artists have a vision for their characters, as well. Each makeup choice is precise. Even writing the script, Krysten had a vision for the characters' makeup.
"I think for my character especially, I wanted to look like every girl, the girl next door, understated," said the actress. "In the middle (of the film) a little unkempt but still pretty. And with Kate's character, we really wanted her to look crisp, icy and cool. And Rachel's character marches to her own drum, so her look was a little more fun and sexy."
Throughout the film, Amy Nadine used Tarte products, such as their LipSurgence matte lip tint line ($24, Tartecosmetics.com) that includes all the hot spring colors, from nude to bubblegum pink and bright fuschia.
After hearing about the meticulous detail Nadine went through for the character's looks, I found myself paying extra attention to the makeup throughout the film. Usually I only notice a lipstick or eye shadow if it really draws me in. It's something new that I haven't seen before. But last night, I paid extra attention to the colors used on each actress and how it helped define who they were. And I must admit, the little things, such as the choice of a thicker mascara or a bright pink lip, really can make a difference.
Do you pay attention to makeup during films? And if so, what are some makeup looks that are associated with a film character?