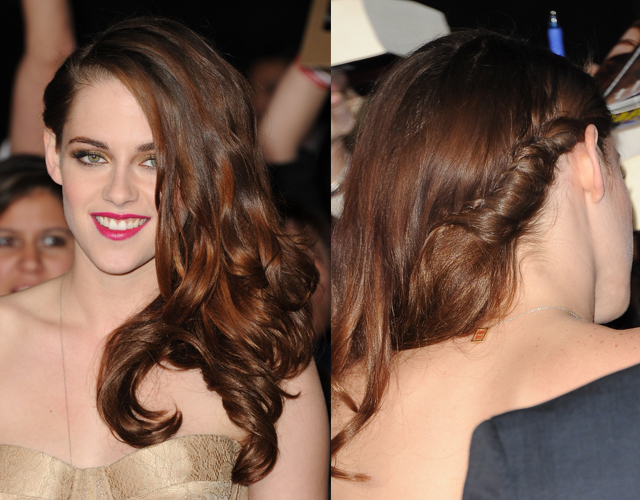 For the last premiere in "Twilight's" epic four movie history with "The Twilight Saga: Breaking Dawn 2" coming out this weekend, Kristen Stewart's hair and makeup team made sure the actress looked her best yet – and we were stunned by the results. Hairstylist Adir Abergel and makeup artist Jillian Dempsey went back to their old school roots, giving Stewart a soft, tousled sideswept hairstyle, bronze smokey eyes and lips that had some attitude.
While the hair was a fresh take on Stewart's usual bedhead routine, and we were absolutely in love with the soft tousled curls pulled to the side, when Stewart turned around we pretty much gasped. The way that Abergel had elegantly pinned under Stewart's hair to accentuate the classic old Hollywood style is a very mature step up for the actress, and we're absolutely loving it. As for the makeup look, Jillian Dempsey gave Stewart a subtle bronze smokey eye, sculpted brows and a pop of a fuchsia lip. The bold lip look is a fun spin for Stewart, who typically prefers a bit of a gothic approach to makeup.
What do you think of the look? Are you loving the fresh take as much as we are? Let us know in the comments below!
[Image via Getty/Jason Merritt]