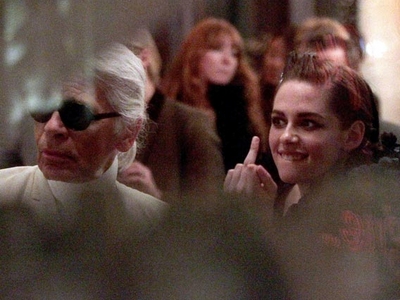 Photo: Courtesy of HollywoodLife.com
Fashion's elite has already shunned her, and the only accessory this actress ever wears is a scowl, so flipping off Karl Lagerfeld (or getting caught looking like she's flipping him off) can't really hurt Kristen Stewart's already-poor standing in the style world.
Our friends at Hollywood Life also note that Monsieur Lagerfeld is rumored to be the photographer of KStew's upcoming Vanity Fair cover. She better have one hell of an excuse, or we have a feeling the shoot's retoucher will suddenly develop food poisoning and leave her looking less than glam on newsstands in June.
Try on Kristen Stewart's hairstyles in the Makeover Studio
Among the many questions this picture poses, the most pressing has to be 'why do people keep putting a girl who constantly complains about fashion and Hollywood on the cover of glossies like Vanity Fair?!'