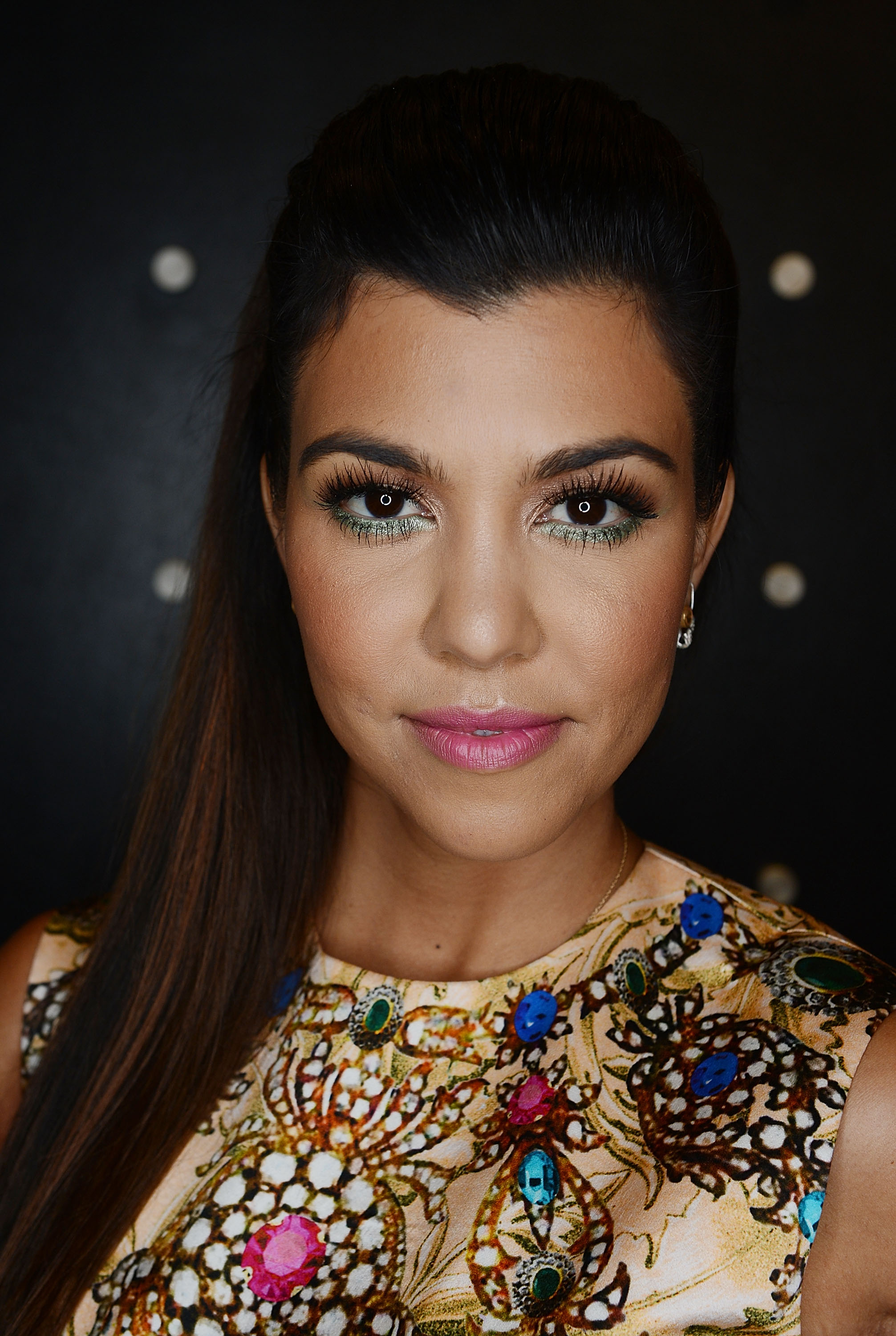 Kourtney Kardashian, one-third of the Kardashian sister empire, is never one to disappoint when it comes to makeup. The eldest of the reality TV family is quick to try bold lip colors and bright eyeliners (and you'll never catch her without her signature lashes). While her sisters tend to stick to smokey eyes and contoured cheeks, Kourtney pushes the boundaries by playing with bold looks.
With the launch of the holiday collection for Kardashian Beauty, we sat down with Kourtney to get her take on her favorite new products. After hearing about her favorite makeup from the holiday collection, Kourtney told us what she always keeps in her bag, what she wears on date night with Scott, and why she won't be wearing a bright lip color for at least two years. Read on below!
Beauty High: What's in your makeup bag when you're not getting your makeup done professionally? 
Kourtney Kardashian: My makeup bag? I need to make one. I keep a traveling makeup bag with whatever lip I'm wearing that day. I love everything, and I'm a glamour whore. I love the Elizabeth Arden Eight Hour Cream. I'm obsessed with our bronzer, too. I use it everyday for contouring and highlighting. Also, I need to curl my lashes. Like if I look tired and I just need to wake up, I have to curl my lashes.
MORE: Kim Kardashian's Makeup Artist on How to Get the Smokey Cat Eye
What's your favorite product from the new Kardashian Beauty collection? 
The bronzer is the one thing you need from the collection. We all really love our mascaras, but each of us likes a different kind. Kim and Khloe like the same kind of mega mascara, and I like a thinner mascara for no clumps. That's really important. We have such a wide range of mascaras and I feel like there's something for everyone. My favorite item is the Week of Kisses set, it's a set of seven lip glosses and they're so yummy.
Do you and your sisters have different tastes when it comes to putting together the collection?
When it comes to actually figuring out which products we want in the collection, we try to do it when we're all together, but sometimes that's really hard, so we'll send it to my house, then Khloe's house, then Kim's house, and we all have kind of different tastes. I wear a bright lip the most and they love nude lips, so I'm all about the shades of lipsticks. I always want the perfect orangey-red or a good hot pink.
What's your go-to date night makeup look? 
Honestly, a bright lip color is the easiest way for me to feel pretty and put together, but Scott hates when I wear a bright lip. I do a bold color to feel finished. The other night when we were going out, I wore a red lip and Scott was like, "You know how I feel about a bright lip."  So I was like, okay fine, we're just going out with friends so I'll take off the lipstick. So instead I did black liquid liner and went crazy with some liner on the bottom, too.
MORE: Khloe Kardashian's Hairstylist Dishes on Favorite Looks and Instagram Inspiration
What's the weirdest beauty trick you learned from your mom? 
Mom told us (and Khloe still does this because I caught her doing it the other day) to use really hot water and a really hot, hot washcloth and scrub everywhere from your face down to your chest. She learned it when she was a flight attendant years ago and they went to a beauty seminar. The other day I remembered it though and I was thinking that I should bring it back into my life. Also, my mom had this rule to never leave the house without the perfect bra and underwear — they have to match — because you never know who's going to see it.
How do you feel like your look has evolved over the years? 
We go through phases, and a lot of times we'll be like, "I'm over makeup! I want to look more natural!" But then we go back to that glam phase, and it just depends on our mood. I feel lucky that we get to experiment so much. I actually caught an episode of our show this week while I was at a hotel, and I saw myself with a bright lip for the entire episode, and I was so over it. I was like, "I'm not wearing a bright lip for at least two years!"
Image via Denise Truscello/WireImage