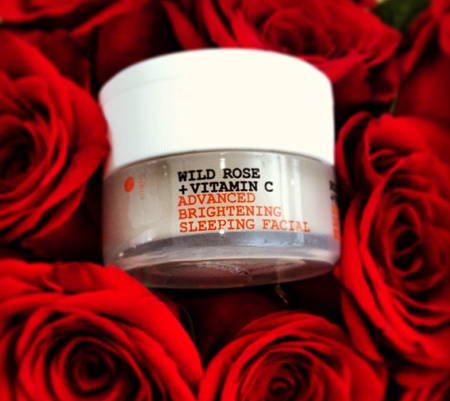 At Beauty High we constantly have new products crossing our desks and are always on the hunt for the next best thing. "The One Thing" is our way of sharing with you that must-have product that you need to introduce to your lives right now, even if it means skipping Starbucks for a couple of days.
Especially with the change of the seasons coming, we all have had those mornings where we find ourselves awakened with dull, flat skin.  Much to our surprise, just splashing our face with water won't do the trick (although the girls in the face cleansing commercials on TV look like they are having a hydration party). You need something that will seep a little deeper into the skin and moisturize while rejuvenating. The perfect product for this job is the Korres Wild Rose + Vitamin C Advanced Brightening Sleeping Facial. This product is applied at night onto cleansed skin, and it is more than a mask or night cream. This beauty-sleep-in-a-jar treatment tackles an uneven skin tone and dark spots while brightening and improving the clarity of your complexion.
What Makes It Different:
It contains a Korres Pho Compound, which is a blend of brightening agents and is stabilized by vitamin C, which all work to illuminate the skin from the inside. 

Exceptional results are shown just after 14 days from this weightless soufflé-like moisturizer, that melts into skin instantly.
This amazing facial treatment also addresses premature signs of aging from environmental factors.  Containing 95% natural content, this moisturizer can be used on all skin types.
Why It's The One Thing:
An overnight treatment that guarantees brighter skin by morning is a staple in my beauty shelf. Natural ingredients leave skin petal soft and after use the results will grow, giving you even more radiance.
Where to buy: Korres Wild Rose +Vitamin C Advanced Brightening Sleeping Facial, $48, sephora.com 
Image via instagram