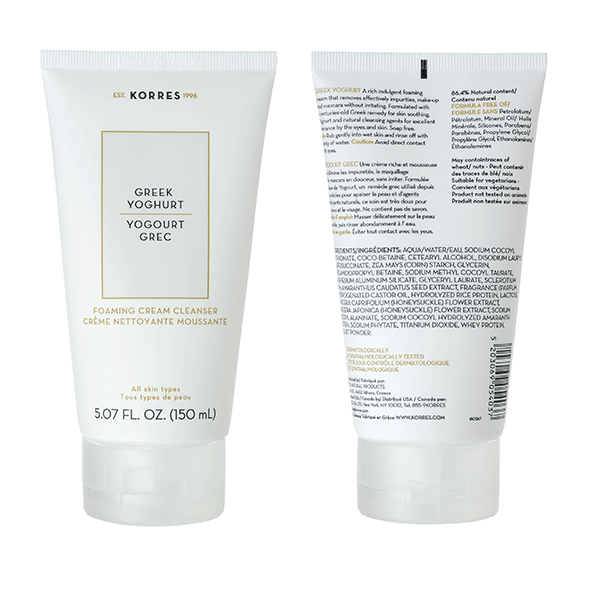 You know how you see the "bestsellers" and "most popular" products in beauty stores, so you of course scoop them up, but then you realize you have no idea how to work them? In "How It Works," we're going to explain to you exactly how to get the best use out of your products, whether they are cult classics or hot off the conveyer belt must-haves. We'll teach you the basics, as well as a few industry expert tips to make sure you're getting the most out of everything you buy.
With a side of berries and maybe garnished with some granola, Greek yogurt can make a pretty delightful breakfast. Rich in protein, we all know by now that it's a healthy morning meal choice and not a bad snack option either. Open up any women's magazine and you'll probably find a recipe including it. But what you might not know is that Greek yogurt isn't only found in the dairy aisle. The benefits from this substance is now a concentration in the skin care world. Korres has launched an entire line of skin care products that are enhanced with Greek yogurt—with one creamy concoction specifically designed to cleanse and nourish your skin with its protein-rich formula. Curious as to why you should give this ingredient a go on your complexion? Read on to find out!
MORE: Banishing and Preventing Wrinkles in Your 20s
Product Perks:
When added with water, this cream-based cleanser turns to a light foaming consistency (but don't worry, it's free of sulfates, parabens, and phthalates), allowing you to easily work it into your skin as well as wash it off.
Know that Greek yogurt is rich in proteins? This moisturizing cleanser is produced with a Greek yogurt concentrate that includes proteins which provide your skin with amino acids—substances that have been known to do wonders like build collagen and elastin, improving skin structure.
Greek yogurt isn't the cleanser's only plus. It also includes honeysuckle which is said to soothe and promote antibacterial benefits for the skin.
How It Works:
The formula looks and feels like a thick, milky substance—and yes, it's supposed to go on your face. Squeeze out a small portion (a little bit bigger than the size of a quarter) on your clean, wet hands. Make sure your face is damp. Lightly massage in the formula—you'll see that the consistency will start to thin out and turn to a foam-like texture. Rinse it off with water to finish your face-washing routine. This product is especially moisturizing, so it won't leave your skin leaving super stripped and dry like many other cleansers.
Where to Buy: Korres Greek Yoghurt Foaming Cream Cleanser, $26, sephora.com
MORE: Ingredients to Look for When Choosing an Organic Cleanser