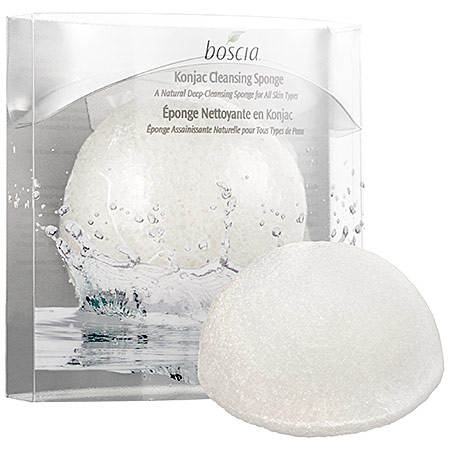 You know how you see the "bestsellers" and "most popular" products in beauty stores, so you of course scoop them up, but then you realize you have no idea how to work them? In "How It Works," we're going to explain to you exactly how to get the best use out of your products, whether they are cult classics or hot off the conveyer belt must-haves. We'll teach you the basics, as well as a few industry expert tips to make sure you're getting the most out of everything you buy.
Considering the amount of turmoil we put our faces through every day — makeup, smog, sweat, etc. — it's important that we take care of our skin. Finding the right products to do so, though, can be a little difficult, so when we find one worthwhile, it's like striking gold. The Konjac Sponge, which is nothing new to Japan where people have been using it for more than 1,500 years, is the latest buzzworthy product to hit American shelves. A small, pillow soft sponge that exfoliates and cleanses your face, the Konjac Sponge is a revolution in the way of skin care.
MORE: DIY Face Scrub: It's Ridiculously Easy
Product Perks: 
Formulated with 100 percent Konjac Root, the sponge is made with the root of the Konjac vegetable that's traditionally been used as a detoxifying dietary staple and a calming, natural exfoliator for skin.
The sponge is pH balanced and naturally alkaline, so it balances the acidity on your skin that can cause redness, irritation and breakouts.
How It Works: 
The Konjac Cleansing Sponge works with or without cleanser, so you can decide whether you'd like to simply exfoliate or if you'd like to add a bit of your favorite cleanser when washing your face.
Begin by rinsing the sponge with warm water, then use the sponge on your face in small, circular motions. Once you're done cleaning your face, use the small cotton thread on the sponge to hang in a well-ventilated area to dry. Replace the sponge every 2-3 months
The sponge contains protein, carbohydrate iron, copper, zinc and vitamins to deliver real benefits to your skin.
Where to Buy: Boscia Konjac Cleansing Sponge, $18, Sephora.com