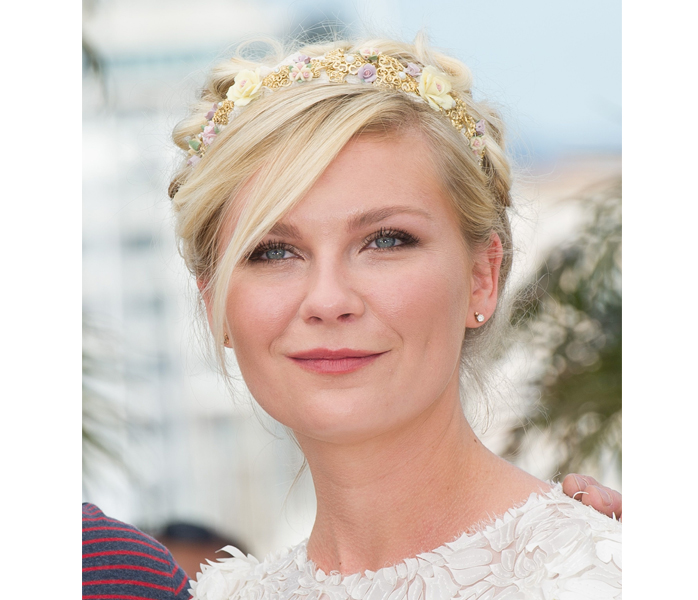 Kirsten Dunst looked stunning for her photo call for On the Road at Cannes today, pulling off a girly Dolce & Gabbana floral headband tucked into her twisted, whimsical updo. Hairstylist Marcus Francis and makeup artist Adam Breuchaud of The Wall Group worked together to complete this soft, girly look. While the milkmaid braid is a big trend right now, this "twist" is a fun, slightly undone take on that look.
Below, both Francis and Breuchaud take us through the steps of getting the complete look:
Marcus Francis: "I prepped the hair with Phyto Volume Actif on damp hair and blew the hair dry with a boar's hair round brush. Keeping the hairlines smooth while allowing for flyaways elsewhere, I sectioned the hair on the side from the front with a middle part down the back. I applied Oribe Dry Texturizing Spray throughout for added texture. Placing the headband back from the hairline leaving a bit of swoop of the bangs, I took three sections on each side and randomly twisted and pinned upward close to the headband. Subtle flyaways add to this style making it more wearable and modern and less feeling like a wedding."
Adam Breuchaud: "I started by prepping her eye with a cream color by MAC called Fawn. Then I used the beige rose color from Cle de Peau's eye shadow quad #21 for the base color wash over her entire eyelid. Then to add depth and contour to the corners, I used Dior Designer eye shadow palette, in Nude Pink. To finish the eye I added a touch of highlight in the inner corner of her eye with CHANEL Soft Touch Eyeshadow in Lotus. The silky luminous beige and rusty rose reflect the light and help open up the eye. Diorshow Blackout Mascara lifts and defines her lash. We groomed her brows with MAC Eye Brows Crayon in Fling and brushed through them with Dior Brow Gel for shape to finish this fresh yet done up look. We then paired her eye with a great saturated flesh tone lip and cheek — YSL Rouge Volupte Lipstick in Ultimate Beige and Stila Convertible Color in Lilium.
[Image via SIPA]