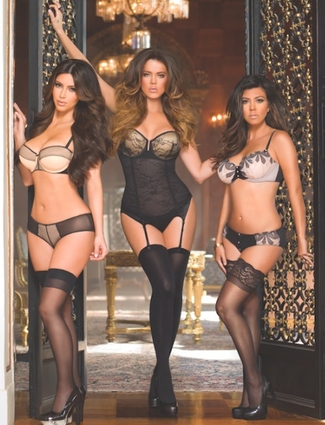 Photo: Kardashian Kollection
Moving beyond perfumes and reality television, the Kardashian sisters launched their first lingerie line yesterday. Take that John Hamm!
Try on Kim Kardashian's hairstyles in the Makeover Studio
While lingerie seems like a logical venture for a set of siblings known for killer curves (and put on the map by Kim's scandalous sex tape) it is only the latest line of items in Sears' Kardashian Kollection.
Kim, Kourtney, and Khloe donned their own intimate apparel for this racy advertisement, which is garnering criticism as a photoshop disaster. But nonetheless, the sisters are proud of their newest design endeavor.
"My sisters and I are excited to reveal our new ad for our Kardashian Kollection Intimates," said Kim, who posted the image on her Twitter page. "The intimates line is so gorgeous, comfortable and feminine and we are very proud of the line!"
A corset like Khloe's will run you $38.50, already on sale from $55, while lacey bras have been marked down at $27.30 from $39.
Will you be getting intimate in Kardashian designs?