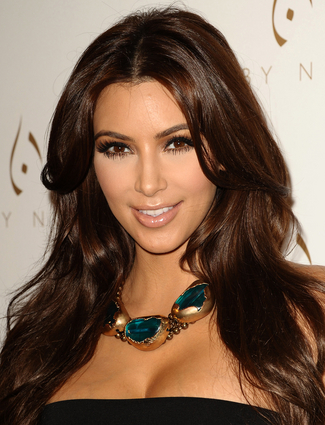 Photo: Getty Images
For her lack of talent, Kim Kardashian has been pretty successful in a lot of things. From her perfumes, nail polish line with OPI and clothing line at Sears, she's become a big force in the fashion and beauty world. But would she be just as successful in the political arena? We may get a chance to see.
Kim Kardashian Covers Scott Barnes New Beauty Book
In an unaired clip on her sister Khloe's reality show, Khloe & Lamar, Kim said that she wants to move to Glendale, CA so she can run for mayor…in five years.
The reality star is very supportive of the Armenian community and a large percentage of the Los Angeles suburb's population has Armenian roots.
"Kim has always looked for opportunities to grow and also do what she can to help and support the Armenian community," her rep told E! Online. "She's learning more about ways in which she can help to do her part to make a difference in the community."
Porn star Mary Carey may not have been successful when she ran for Governor, but she did lose to former body builder and actor Arnold Schwarzenegger. Maybe Kim has a shot. Would you vote for Kim for mayor?