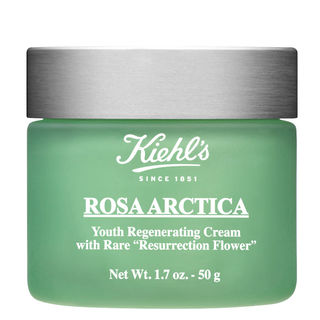 At Beauty High we constantly have new products crossing our desks and are always on the hunt for the next best thing. "The One Thing" is our way of sharing with you that must-have product that you need to introduce to your lives right now, even if it means skipping Starbucks for a couple of days.
The winter months are harsh on your skin and even if you're young, your skin can begin to look older if it's dry. The key is to find the right moisturizer that is thick enough to hydrate but not too greasy that you'll break out. And hydrated, glowing skin is one of the first steps to any beauty look. Many of us either think that we're still too young to use any products deemed "anti-aging" or that those pricey products aren't actually worth it, but Kiehl's Rosa Artica Anti-Aging Moisturizer may be the answer you're looking for. It's an intense moisturizer that will take care of dry skin and hide lines and wrinkles.
What Makes It Different:
This anti-aging cream is made with "Resurrection Flower" to hide lines and wrinkles, so your skin will look more youthful.
It provides intense hydration to even the driest skin and it keeps it moisturized all day long.
Squalane, a botanical lipid, is one of the ingredients that helps restore skin's natural moisture.
Vitamin E works as an antioxidant in this moisturizer, protecting the skin from free radicals in the air.
Why It's The One Thing:
Not only does it moisturize dry skin, but it also protects your skin from future damage by replenishing the skin's barrier. It's a great base for foundation but if you find it too thick then you can just apply it at night and you'll wake up with soft, hydrated skin. Unlike many products, you'll actually notice immediate results that are long-lasting. We recommend it even if you have no visible wrinkles and aren't looking for an anti-aging product because it's the one moisturizer that works wonders when it's cold outside.
Kiehl's Rosa Arctica Anti-Aging Moisturizer, $60-$120, kiehls.com