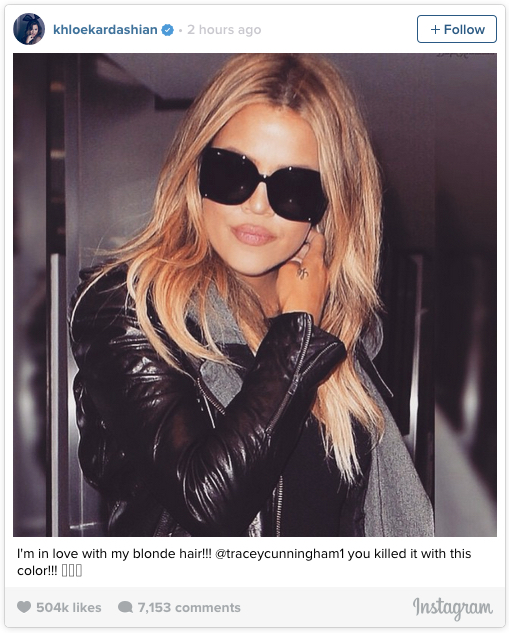 Even if you aren't buying what they're selling, the Kardashians are a fascinating cultural phenomenonand nowhere is this more obvious than in the world of beauty. Kim, Kourtney and Khloe's commitment to a very big, dramatic look (think giant eyelashes, perfect contouring, glossy nude lips, loads of hair extensions) single-handedly caused a seismic shift in the mainstream glamour gamesomething that's always interesting to observe.
And while we were observing the current hair choices of the Sisters K (that sounds so much nicer than "Instagram lurking," doesn't it?), we noticed that STOP THE PRESSES, KHLOE KARDASHIAN HAS GONE FULLY BLONDE. Amid swirling rumors that she'll replace Kelly Osbourne on Fashion Police, Khloe instagrammed this shot of her new multi-toned blonde hair. We know firsthand how hard it can be to go from dark to lighteven if you've been sporting ombre highlightsand we salute her (and her colorist, Redken Creative Consultant for Color Tracey Cunningham) for going in such a dramatic yet natural-looking direction.
This isn't Khloe's first foray into the world of bleachshe's long rocked one of our all-time favourite ombres, and her teenage years were filled with bright blonde dye jobs. Her current delicate golden highlights over a medium blonde base (close to her natural shade, perhaps?) give her hair a ton of dimension and shine, while helping to camouflage any bleach-damaged ends. We aren't sure if there's any truth to the Fashion Police hosting rumors, but one thing's for sure: Khloe really knows how to create a hair sensation.
We really like the new blonde Khloewhat do you think? Tell us on Twitter at @dailymakeover!
Read more: How To Go From Black to Blonde Hair.