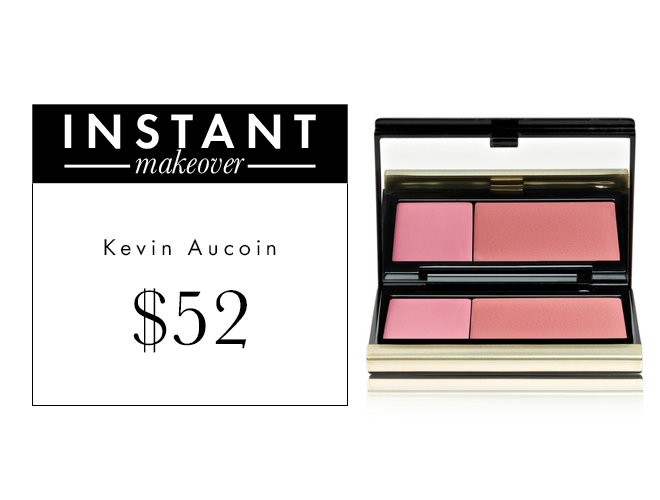 Occasionally we come across a product that bestows an immediate glow, changing our look (for the better!) in an instant. Since we'd be remiss to keep them to ourselves, we highlight these genius finds in our Instant Makeover series.
When bronzed skin is at its peak, we tend to skip the foundation and BB cream. A soft tan has the power to cover up any imperfections, like enlarged pores and uneven skin tone, but bare skin poses a problem when adding color back into the cheeks. Most blushes (even cream formulas) require a smooth base for seamless application. That's until Kevyn Aucoin Creamy Glow Duo ($28, net-a-porter.com) landed on our vanities.
In Pravella/Janelle, a combination of bubblegum pink and rosy peach, the sheer blushes build a natural flush on cheeks. Applied with the fingers, they are light enough that they glide right onto skin without leaving a greasy residue or obvious lines. Pair together or wear solo. The peach enhances tan and darker complexions, while the pink warms fair skin. Either way, the finished effect is a natural dewy flush.
The soft formula also doubles as a tinted lip balm. Packed with natural emollients, color lasts all day. Pack it in your bag with a tube of mascara, and you're set. Beach bum beauty has never been so easy.
Read more: The Only Product You Need For Gorgeous, Glowing Skin