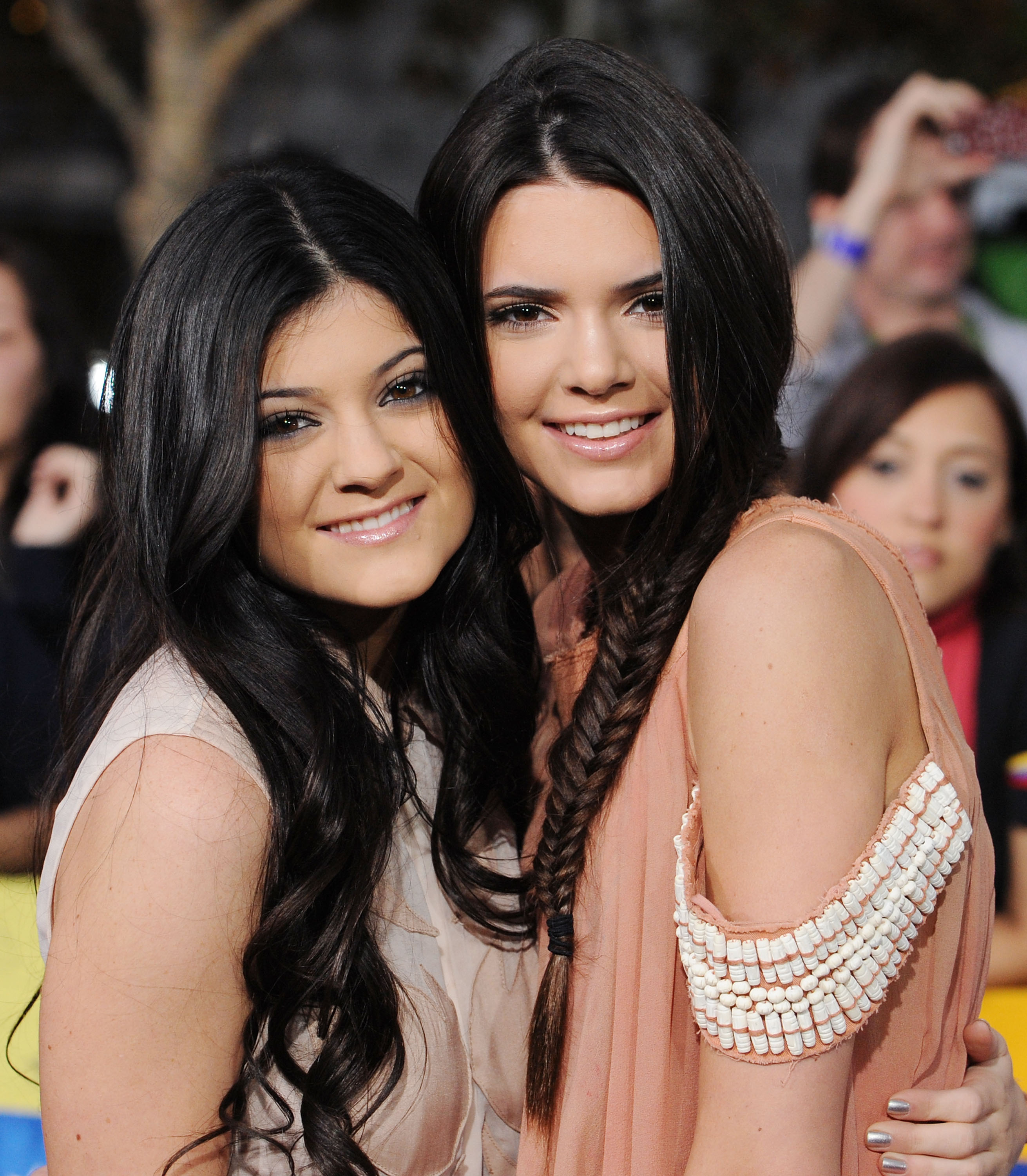 Khloe Kardashian may be the sister who's most daring when it comes to her hair, but Kendall and Kylie Jenner are quickly rising in the ranks when it comes to hair. The teen reality TV stars have grown up in front of the camera and have undoubtedly learned a thing or two about beauty. Kylie's taking on her famous half-sisters' voluminous waves while Kendall tries every hairstyle under the sun from the fishtail braid to the top knot. Whether they're being photographed on the red carpet or they're taking selfies on Instagram, it seems these sisters never have a bad hair day.
To get the scoop on their enviable tresses, we went to celebrity hair colorist responsible for the Jenners' color always looking fresh and fun, George Papanikolas. Below, George talks about which hair trends Kendall and Kylie go for, how they get ready for the red carpet and more!
Beauty High: When you're working with Kendall and Kylie, is one of the girls more open to trying new colors or trends?
George Papanikolas: Kendall was more open to lightening her hair, while Kylie wanted to stay on the darker end. But I would say they are both equally open to new ideas.
What are some trends Kendall and Kylie are dying to try? Which will they never try?
Kylie is very interested in experimenting with black but she's a young girl and that can change next week and she could want to go lighter.
After coloring their hair, how do you recommend Kendall and Kylie keep their color vibrant?
Use gentle shampoos. You want to look for some that are sulfate free. A great one is Joico's Sulfate Free Color Endure, and a moisturizing conditioner that will soften and repair damage. One of my favorites is Joico's Revitaluxe which I use on their hair post-color to bring back the life of the hair.
How do the girls prep their hair color for a red carpet event?
Well it was Kendall's first time dyeing her hair and Kylie has kept hers very natural and dark, so they will come in for a refresh about a week before an event so it looks like they just walked out of the salon.
Kendall's gone blonde, but she has very dark features. How can girls at home make blonde work with their coloring even if their hair is naturally dark brunette?
If you're a dark brunette and you want to go lighter anyone can go a variation of blonde, but if you are naturally dark the best results come when you lighten your base 2 shades and your highlights 4 shades lighter, which for brunettes means you're going to be a golden caramel blonde. Trying to go any lighter can result in brassiness and damage to your hair.
What's your favorite part about working with the Jenner sisters?
They are energetic, fun, and getting to be a part of them experimenting with color is really refreshing because we get to explore these options together. And getting to dye Kendall's virgin hair was great!
When it comes to hair color trends, where do you see the trends going next?
People want to see more bold placements of color , chunkier bolder pieces (kind of like Khloe Kardashian's recent look) rather than perfectly woven pieces that one doesn't notice. The key is to not uniform those chunky pieces from root to end, but to spread them out. The key to making that look modern is by starting fine at the root and gradually get thicker towards the ends with big chunky pieces.
Kylie's had pink highlights in the past – do you recommend actually coloring hair or just getting colored extensions for girls wishing to try this at home?
Colored extensions are probably the best way because to get those pale pink tones you need to bleach the hair to a very pale blonde, which causes a lot of damage to the hair. Plus, the pinks tend to fade and it becomes a very high maintenance thing. Save yourself the headache and have some fun with clip-ins.
Do you have any tips about choosing a new hair color that will work best for you?
Stay within two shades of your natural color and that will always give you the best results.
Are there any products you wouldn't be caught dead without?
A hairspray, Joico Power Spray is a must for those perfect beachy summer waves!
Image via Jon Kopaloff, FilmMagic
More Celebrity Hair From Beauty High:
Khloe Kardashian's Hairstylist Dishes on Favorite Looks and Instagram Inspiration
How to Make Ombre Hair Last: Tips From the Kardashians' Hairstylist
Celebrity Hairstylist Teaches Us That Braids Are the Best Way to Fight Frizz