By a stroke of luck, our friends at StyleList placed their bag on the seat next to the one secretly reserved for the guest of honor at the New York City Zeno editor event for the launch of their new at-home anti-aging device and serum kit, Line Rewind. When Kelly Rutherford, the matriarch of "Gossip Girl," took that seat, they were obviously thrilled.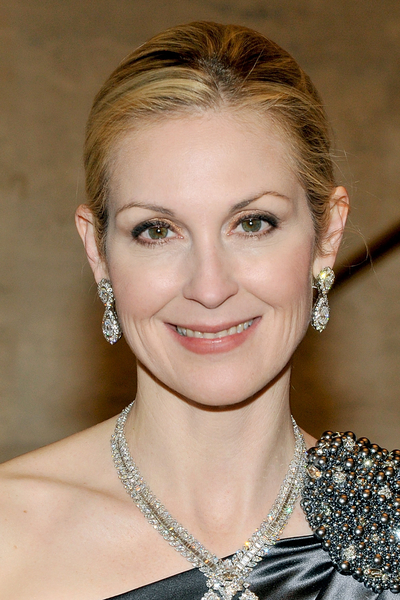 Photo: ©
Joe Corrigan/Getty Images
Rutherford is obsessed with the new Zeno device and has the luminous skin to prove it. "I pay so much for facials that include the light treatments at the end and now I can have that at home," she said.
Zeno Line Rewind is the first at-home device to combine LED light, heat and vibration in the battle against wrinkles. Included with the device is Line Rewind Serum, which was created to work in tandem and deliver resveratrol (the powerful antioxidant in red wine) and a peptide complex that promotes cell turnover.
The heat helps open pores and allows the serum to be better absorbed, the vibration increases microcirculation to the skin and the red LED has been shown to enhance collagen production, all of which help diminish the appearance of fine lines and wrinkles. Plus, the serum's pearlized particles give skin a glow and the massaging device actually feels like a spa treatment. "The way it warms up your skin, it's very nurturing," says Rutherford, who's also a fan of the serum for her dry, sensitive skin.
The 42-year-old actress, who looked quite chic in her neutral ensemble—including beige, patent platform Christian Louboutin heels and a putty bowling bag from her eponymous handbag line for QVC —dished on a few of her favorite spring fashion staples. "I really like white jeans, especially skinny capris. I like my ankles to breathe."
Like many women, Rutherford lightens up her makeup routine during the warm weather season. Her must-haves: Stila cream blush and Lip Glaze and, of course, sunscreen. "I use California Baby a lot for myself and my kids, because I know it doesn't contain anything bad."


Try on spring makeup in the Makeover Studio!
More from StyleList
Spring 2011 Work Fashion
Carrie Bradshaw Bun How-To
Hottest Haircuts For Spring 2011