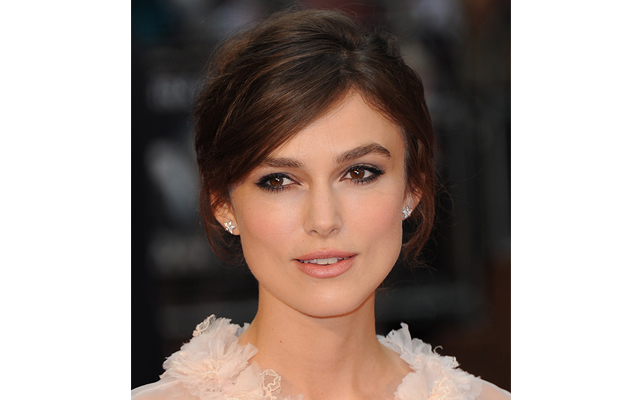 Keira Knightley stunned on the red carpet of the UK premiere for Anna Karenina last night wearing a pale rose pink Chanel Couture gown. With her hair in a soft French twist, Chanel makeup artist Lisa Eldridge chose to do a soft, romantic makeup look to flatter the gorgeous dress. Eldridge explained her inspiration behind the look — and exactly what she used — on her makeup blog, and we dissected it so that everyone can copy this effortless smokey eye.
Eldridge said that she wanted to start with a flawless base for Knightley, so she used Chanel's Perfection Lumiere in 10 Beige, applying it in thin layers with a brush. She then used concealer where needed and at "the high points of the face to highlight and shape."
For the eyes, Eldridge began with a perfect liquid line along the upper lashes using Ecriture De Chanel – 10 Noir keeping the liner really thin at the inner corner but building up about a third of the way along. At the outer corner, Eldridge elongated the liner with a "small kitten flick." She mixed two shades across the lids from the Ombres Contraste Duo in Gris until it was a soft silver/grey and added a pale pink shadow into the socket line to soften the look. To finish the look, she added Inimitable Intense Mascara in 10 Noir.
After Eldridge finished the eyes, she dusted the cheeks with Joues Contraste in Rose Initiale 72 (just for a flush of color) and applied Rouge Allure in Evanescente 88 to the lips, a soft pink.
What do you think of the look? Would you mimic it?
[lisaeldridge.com] Image via Getty/Chanel