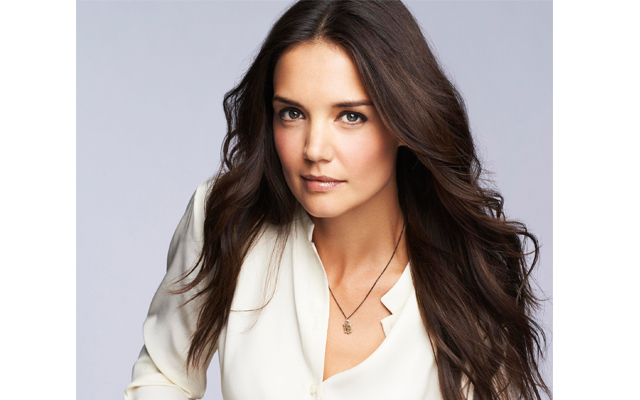 Now that Katie Holmes has settled into NYC life with oh-so-lovable Suri, going to dance classes, gymnastics, the park and the zoo, it was about time that she made a major announcement career-wise. That announcement shocked us all today in the form of a beauty deal, when industry sources claimed (according to WWD), that she has inked a deal to become the first celebrity face of Bobbi Brown Cosmetics.
The executives at Bobbi Brown declined to comment on the rumor, as did representatives for Holmes. The timing is quite right though, as both Brown and Holmes are prepping for a busy NYFW with Holmes' first showing of her line, Holmes & Yang. The always-natural Holmes would be a great representation of the beauty brand though, who bases their shades off of a solid color palette, encompassing trends around their core line. Bobbi Brown has been touting a "Pretty Powerful" beauty campaign over the last few years, showing off makeovers on real women — Holmes is obviously not a real women, but considering all that she has done in the last few months (yes, we think that escaping Tom Cruise and Scientology is a great feat) we'd consider her "Pretty Powerful."
UPDATE: Bobbi Brown confirmed the partnership today, saying that "Katie Holmes epitomizes the modern 'Bobbi woman'… I think of her as the modern day Ali McGraw, who I have always admired. Katie is a classic natural beauty, entrepreneur, and mother. When I met her, I thought she was a natural fit for my brand, and felt an instant connection with her."
Katie also released a statement, saying that "Bobbi is exceptional and Bobbi Brown Cosmetics is a company that we, as women, all turn to because it is makeup that is very accessible and makes you feel pretty. Sometimes it is just a lipstick or a blush that makes you feel like you can what you need to do. Makeup is powerful and I am thrilled to be a part of this brand."
The partnership will begin with the spring 2012 print ads, and Bobbi will be the lead makeup artist at the Spring/Summer 2013 Holmes & Yang fashion show.
What do you think of the move for the brand? Do you think Katie Holmes is a good fit?
Image Courtesy of Bobbi Brown Cosmetics