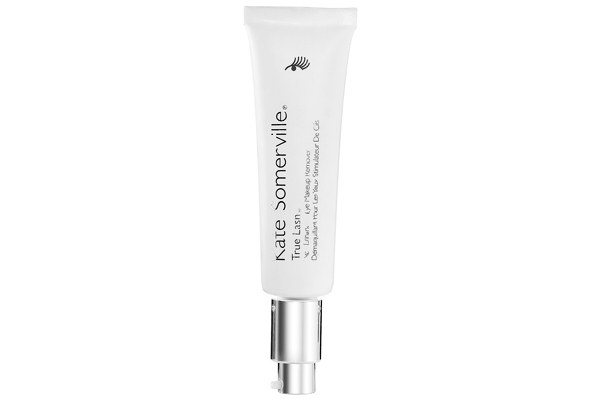 You know how you see the "bestsellers" and "most popular" products in beauty stores, so you of course scoop them up, but then you realize you have no idea how to work them? In "How It Works," we're going to explain to you exactly how to get the best use out of your products, whether they are cult classics or hot off the conveyer belt must-haves. We'll teach you the basics, as well as a few industry expert tips to make sure you're getting the most out of everything you buy.
It's hard to find someone who doesn't lead a busy lifestyle in this day and age – we all schedule ourselves within an inch of our lives – and when we do have downtime, we tend to still be glued to every screen imaginable. So, when we can find a beauty product that does double-duty, and does it well, we certainly embrace it. Kate Somerville's True Lash Lash Enhancing Eye Makeup Remover does just that – it not only helps to remove your eye makeup from the day, but it also helps to condition and grow your lashes over time. We call that a win-win in our book.
MORE: How to Grow Beautiful Long Lashes
Product Perks:
The makeup remover is strong enough to remove even waterproof makeup with just a couple of pumps of product.
With a SymLash226 complex, this product helps to strengthen and promote lash growth for both stronger and fuller lashes – something we're all striving for.
The remover is also packed with avocado oil, white tea and fig blossom to help reduce puffiness and fine lines.
How It Works:
While we love an eye makeup remover that seamlessly takes off our makeup at the end of the day (and waterproof makeup at that) one that includes the added benefit of nourishing and growing our lashes is definitely one that we want to get behind. All you need to do is apply a small amount of this product to a cotton ball gently smooth over the eye area – the ingredients in the product will do the work for you!
Where to buy: Kate Somerville True Lash Lash Enhancing Eye Makeup Remover, $36, sephora.com