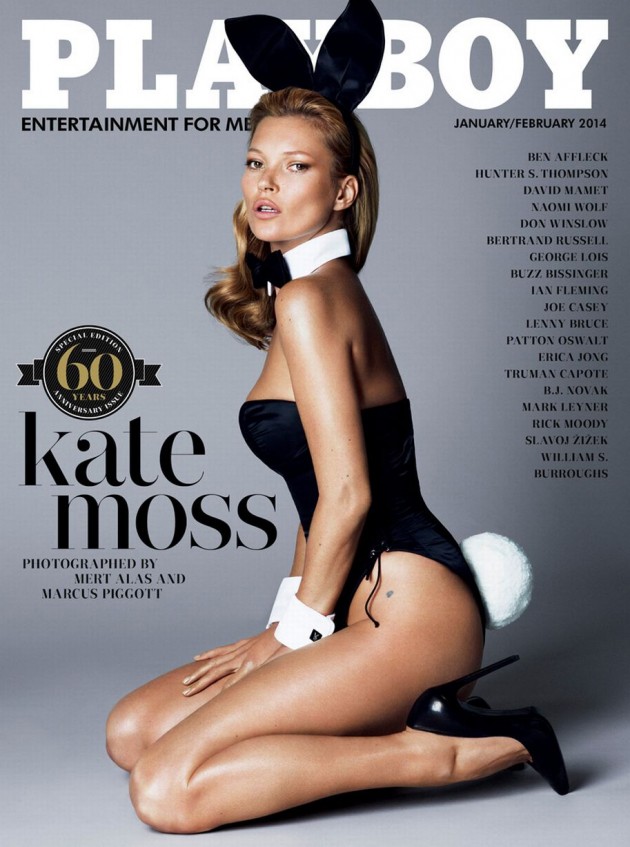 She may be turning 40, but Kate Moss doesn't look a day over 25 in her new Playboy spread. Sure, the model's been in the business for years and she knows what she's doing, but it's not just her incredibly fortunate genes that make her look that great — it's also her bronze glow. Note we said bronze, not orange or tan, and there was no mention of an oompa loompa. The secret to her not-born-with-it glow is St. Tropez Tan, and we got the full backstory on how Kate got her bronzed bod before the shoot.
MORE: The 6 Key Steps to Kate Moss' Look
Nicola Joss, St. Tropez Tanning and Skin Finishing Expert, started moisturizing and exfoliating treatments with Kate a week before the photo shoot with Playboy, that way her skin would be hydrated and radiant. "It's so important to hydrate as much as possible before a big shoot because dry skin will look dull in front of a camera," Nicola says. Five days before the shoot, Nicola used St. Tropez Spray Tan for a head to toe bronze glow. Two days before the shoot, she applied St. Tropez Self Tan Classic Bronzing Mousse with an applicator mitt so that Kate's skin would look perfect and fresh before the shoot.
MORE: Kate Moss Announced as First Face (And Body) of St. Tropez Tan
Next, she added an extra layer of the mousse to Kate's inner thighs, waist, cleavage and down her arms and back to accentuate her features. The last step was adding St. Tropez Gold Illuminator on the lengths of Kate's limbs to make them look longer and leaner, then on the décolletage to accentuate her bone structure. Nicola contoured and highlighted Kate's body to make sure the light hit all the right curves.
Image via Playboy