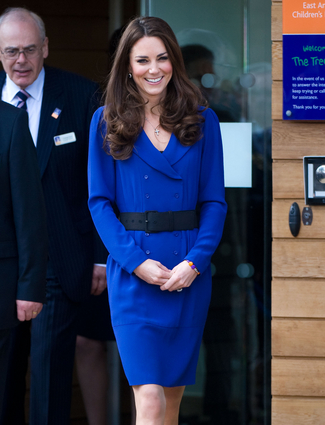 Photo: Lester Cohen/Getty Images
In honor of UK's Mother's Day yesterday, Kate stepped out today in her mother's dress for her first ever public address.
Get a Pippa Middleton Inspired Summer Dress
The sapphire dress is from Reiss, a popular retailer in the UK that has reported a doubling in profits, thanks to Kate's loyalty to the brand. They refer to it as the "Kate Effect," similar to Mrs. Obama's effect on the success of J.Crew.
Kate styled the dress just like her mother with a thick black belt, black heels and a matching clutch.
Spring's Newest Celebrity Collaborations
This isn't the first time Kate and her mother Carole have swapped clothes. She has worn her mother's dresses at two recent weddings, as well as shared clothes with her younger siste,r Pippa. They have swapped a Katherine Hooker coat, as well as a Whistles jacket.
Do you swap clothes with your family, or do you enjoy a style that's all your own?