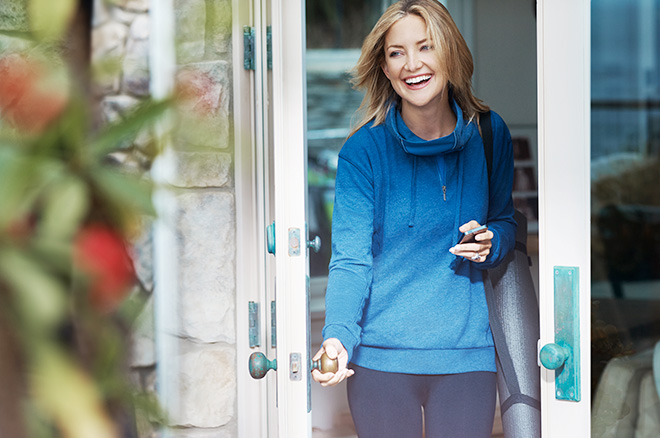 Celebrities like Kate Hudson may get more attention when wearing glamorous gowns on the red carpet. But to stay "red carpet ready," most actresses spend more time in workout gear than they do in designer dresses. That's why for her first foray into fashion, Hudson has cofounded a line of lifestyle and athletic wear, Fabletics.
"Everybody thought maybe the first thing I would get into would be a line of high fashion-y, bohemian dresses," Kate tells us. "But for me, I wanted to reach a wider community of women."
"As a mom, I live in this stuff, I really do," says Kate. "How often am I on a red carpet, and how often do I wake up in my house and take my kids to school? It's a no brainer ratio that I'll probably be wearing this more than I'll be wearing a Cavalli dress."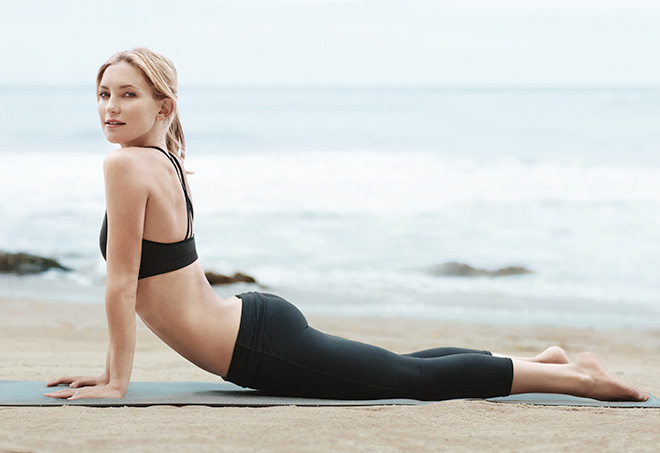 "Pretty much all day I have something on, or half of something that I've worked out in or I am planning to work out in," say says. "I like purchasing a legging that I can wear to work out in and that I can also wear going out with boots and things," she says, pointing to her current outfit, which teams a pair of her black Fabletics leggings with a killer pair of grey and black print heeled booties. "So I wanted to make sure that was part of what we were doing with the line."
Having danced and lived an active lifestyle her whole life, Hudson is one of those women who makes fitness look effortless, and that's what her Fabletics line hopes to help the rest of us do, too. "With this active wear and athletic wear, and what will hopefully meld into lifestyle wear, I felt that this was an opportunity to create an affordable, high quality, hip product, but (also) have a community for women to help support each other and the goals that they want to achieve."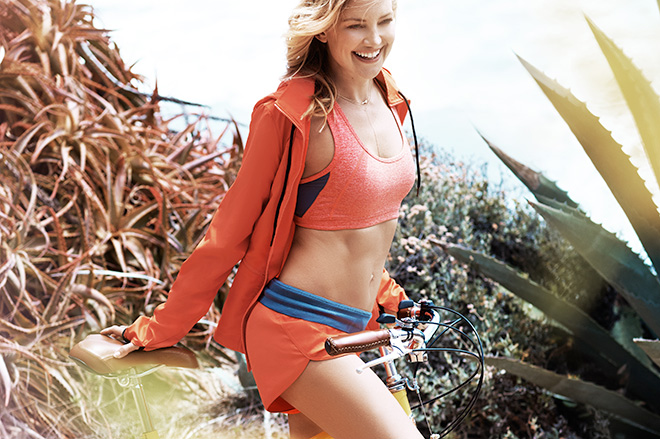 "It's hard to find this at this affordable price — we do need this in the marketplace. For women to be able to find athletic wear that they can wear all day," says Hudson of Fabletics, which is co-founded with JustFab Inc, one of world's the leading fashion subscription companies, and will follow a ShoeDazzle style business model.
It was important for Hudson that the line cater to all different kinds of workouts — from yoga and Pilates to running, spinning, and dance classes. Hudson points to a seamless bra top which is great for spinning or dance classes, and says she loves the shorts for running or dancing. "I like the seamless sports bras, personally, but some women need more support. When I run I like shorts, and when I dance I am basically half naked!" she laughs. "I like to wear the little shorts and a seamless top."
And of course, the line caters to all different body types. "I think it's really important when you're doing a brand like this when you want to reach all women, the idea is that it doesn't discriminate, and we are designing for all body types."
While most of us don't have the media scrutiny and pressure to look good on the red carpet, Hudson's down-to-earth attitude about working out and looking good is refreshingly approachable. And as she points out: sometimes a new outfit is all the motivation you need to get moving. "Everybody knows that it's important to stay healthy and to be active, but how do you motivate yourself to do it? It can start with having a pretty cool piece that's affordable that makes you want to start to set goals for yourself."
Read more: Celebrity Workouts: How Cameron, Gwyneth and More Stars Stay Slim