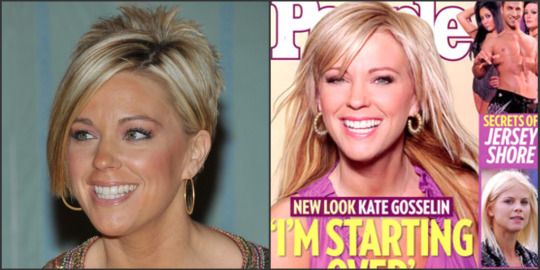 Kate Gosselin Before: October 2009
Credit: Dr. Billy Ingram/Getty Images
Kate Gosselin After: January 2010
Credit: People
Last Sunday, I helped fellow TLC star Kate Gosselin achieve a new look for 2010 with some fierce extensions. The process took 20 hours (quite a long makeover!) and we did it all in one shot at Kate's hotel suite. We understood the importance of getting the job done. Jason colored the extensions (stay tuned for his post on that!), while stylist Nancy put them in. We used the Great Lengths iteration, which are comprised of real hair. We chose Great Lengths because they're more permanent than other types of extensions.
Kate's former 'do included a long sweeping bang. But I think she was hiding behind that. It was a period of her life that she wants to move past. Kate has short, thick hair, and to make her long locks look as natural as possible, we had to put in 18 bundles of hair. The norm, for your reference, is 6-8 wefts. The extensions were initially 18-inches long (straight) and we cut them to right below the collarbone. I added in subtle layers and incorporated a bang she can either wear down or swept to the side.
To maintain her new 'do (and I think we can all agree this is definitely a DO!), I recommended that she not shampoo daily and opt instead for a sudsing at least every other day with Ted Gibson Daily Cleanse Shampoo and Conditioner. I used my Hairsheets Styling, flat iron and Beautiful Hold Hairspray for her cover shot for PEOPLE. All products are available for purchase here. Kate will need to come back to get her extensions touched up every 3 months and will need to get her hair color done again once every 4-6 weeks.
Overall, It was an amazing experience meeting her. Considering she hadn't changed her hair much in the last 2-3 years, she was surprisingly open to the process. Initially, she wasn't jazzed about the idea of bangs, but we worked toward it.I just think that bangs are sexy on a woman. I think a recently divorced woman just needs a makeover to help her exude as much sex appeal as possible. Because women with kids don't necessarily focus on sexiness, whether they have two kids… or eight. In fact, Kate Gosselin's calling her new look Kate Clean Slate. It's inspiring! She even sent an email today saying she loves it.
Remember, Beauty Is Individual.