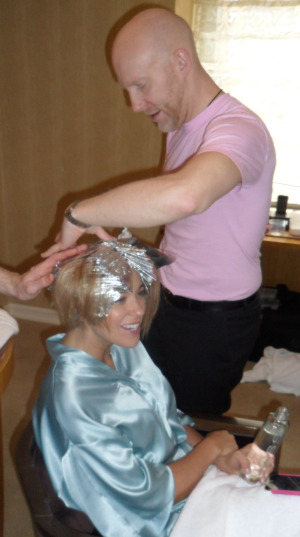 Just before Christmas Ted came up to me and said "You will never guess who I am doing a makeover on for the cover of People Magazine!!! Kate Gosselin!!!" I naturally said "Don't you mean the makeover WE are doing???" Hahaha – actually I was blown away by what a great (and super fun) opportunity this was.
I have to admit every time I saw a picture of Kate in a magazine I always thought, what is she thinking with that hair?!?! Since I never saw an episode of the show John and Kate Plus Eight, I really didn't know anything about her except what I had read on the covers of the weekly magazines.
Kate's color was, in my opinion, too stripey, the variation had too much contrast and it looked really dated. When we did the consultation for her new color I was completely surprised by the fact that SHE REALLY LIKED HER HAIR!!! During our initial chat she expressed that she wanted to keep the bold variation and that she really loves to see some contrast in her hair. It was my job to A. Make it look different enough that it would have some impact on the cover of a magazine and B. Make it look pretty!
Kate had never had a single process (one color all over everything) before and that is what I decided to do to the base. I wanted to lighten it from the natural medium brown to a medium sandy blonde. After that, I did a gloss to take all of the previous highlights down to a softer, darker blonde. Then I put in a half head of highlights and lowlights to break up the stripes that were there before and make everything a lot softer and more modern looking.
I was thrilled with the color – and so was she! I listened to what she said and kept the bold variation she loved but did it in a way that looked expensive (she laughed when I told her that!) and super sexy. In the end, Kate was so happy with the way I kept the parts of her color she felt identified her and at the same time, gave it a whole new twist.
If you are curious about the whole day – nearly 20 hours? It was a blast. I love Kate, she is charming and funny, she can tell a good story, she is patient and lovely. People like Kate and these kinds of work days take my job from fun to super fun!!!
I love Kate's new look – What do you think? LMK.