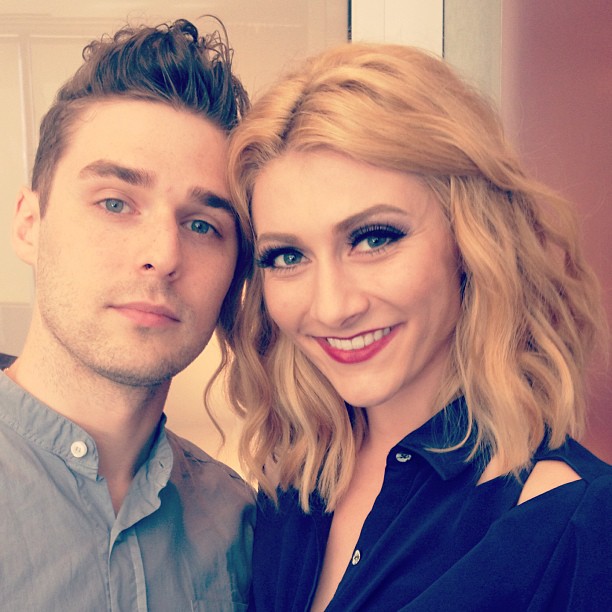 It's not every day a wedding singer and a boxing instructor get together to create music, but when Amy Heidmann and Nick Noonan started making music together, it was clear they were headed for stardom. The couple, who are engaged, became YouTube sensations for their cover of Chris Brown's "Look At Me Now" (which currently has more than 83 million views), and once they moved cross-country to Los Angeles, they found themselves on the fast track to musical fame. Their band, named Karmin, just debuted their new single "Acapella" and are gearing up to tour with the Jonas Brothers across the U.S. this summer. Besides just being the masterminds behind the songs we can't stop singing in the shower, Amy has made a name for herself in the beauty world, first because of her signature suicide roll hairstyle (you can watch her YouTube tutorial for the hairstyle here), and now because of her cutting edge style that's constantly evolving. We caught up with the duo in New York City to chat about their latest partnership with Tone Body Wash, Amy's transition from brunette to blonde (and why it took seven hours), Karmin's moment with Paul McCartney and more. Read on below!
Beauty High: First, tell me a little bit about your partnership with Tone and Turn It Up.
Amy and Nick: It happened organically, which is always nice. We use Tone, it's actually in our showers. It worked out perfectly because when we go on tour this summer with the Jonas Brothers, they're going to set up this contest on their Facebook page and if you win you can come see us backstage for meet and greets and come to our sound checks. The album also comes out later this year, so I think they're going to give out exclusive copies. It's a perfect pairing, I think.
Nick, do you steal any products from Amy? 
Amy: He steals my body wash all the time!
Nick: At first I didn't, but now I have her lotion and all of these other things.
Ha! And Amy, your look has really evolved over time. What's that progression been up until now?
Amy: We have had so much fun in the beauty and fashion world already and we've just started! When we broke on YouTube with the "Look at Me Now" cover, I had tried to do the suicide roll and I really didn't know how, and I just saw it on a poster somewhere on a street corner and it kind of evolved into a bigger and bigger thing. People just started doing it, like I saw Lady Gaga in a picture with it and Demi Lovato and P!nk, so we recently decided to change it up. I've always wanted to be a blonde, I've always wanted to try it and it's actually great, it's almost easier.
You typically don't hear that from a brunette going blonde – how is it easier? 
Amy: Your hair gets really moldable and the texture of your hair dries out, which is I guess unhealthy, but it's so easy. You have to do a lot of moisture masks, it's just like your skin.
What do you do to keep the blonde alive? 
Well, there's purple shampoo that's really helpful. There's a generic one that you can find at Sally Beauty Supply and that's really helped with keeping it looking almost natural. You also have to dye it every three to four weeks for roots. It took 7 hours to do this color in my hair because it was a gradual lightening. Plus, I was dyeing it dark before, so that was part of the problem.
It sounds like you're playing around a lot with colors and styles. 
Amy: Definitely. With the new album, I think artists have to change it up every once in a while and the new album gives us the perfect opportunity to do that. The sound is a little bit different now. "Acapella" is definitely more us than anything we've ever put out. We're having so much fun with it and I think it called for a new look.
Do you guys feel pressure to keep evolving now, to keep topping yourself? 
Nick: Not really. Karmin is so new that we're still finding out how to make us translate. We know who we are and what we have to be, and when you try to convey that into a photo shoot or one song it can be really hard to do. There are so many amazing professionals around that are telling us to try this and that, so we had kind of a trial period last year.
Amy: We were quite the chameleons!
Amy, I have to ask, what makeup are you wearing today? I can't stop staring at your lashes! 
Amy: So, I guess they groom mink from zoos, because I said "I'm not wearing those eyelashes if they killed an animal to get them!," but I guess they get the hair just from grooming the minks. So, those are the eyelashes. Everything else is from Mally and it's great. She has this clear stuff you dab on and it gets rid of oil. The lipstick is NARS, one of my favorite lip pencils.
I'm obsessed with NARS Velvet Pencil in 'Cruella.'
Amy: That's what I'm wearing! It's NARS in Cruella.
As far as your style goes, it seems like you'd be all over the nail art trend, but you're wearing nude nail polish. Do you think you'll ever get into it? 
Amy: Oh my gosh, I should be right? It's an obsession waiting to happen. Honestly too, especially with our new styles of wearing all monochrome looks, I'd have to do a new manicure every day to keep the colors consistent. Also, I play guitar so it's difficult to have longer, beautiful nails, I just have these short nubs. I'm pretty handy with the hair and makeup; I love doing my own. I usually have to do my own on tour. Also, we're starting a blog later this year with beauty tips, and I have some hair tutorials on YouTube.
So when you guys go on tour, what are some beauty products you have to bring with you? 
Amy: Definitely Tone body wash, because you never know what you're going to get in a hotel room. Tone is nice too because we don't really have time any more to go to spas, so you want it to actually smell really amazing so you can enjoy a hot shower after a show.
Nick: Amy is obsessed with smells. She's a smeller, which is why my go-to thing is cologne.
Amy: Well, we do these high energy shows now, so we're drenched in sweat after. Smelling good is definitely important, oh and dry shampoo for the tour bus.
Nick, what's your signature cologne? 
Nick: Mont Blanc.
Amy: It smells really good.
Now that you're touring with the Jonas Brothers, is your fame starting to feel real? 
Nick: I think just this year it started to feel real, it was like a roller coaster. This year we're finally staring to feel like we're holding the controls, and finally starting to feel comfortable with everything.
Amy: Some people thought it was fake, and thought we weren't really a couple, and that we didn't have a $99 webcam and ate spaghetti every night and thought that I didn't work as a wedding singer and Nick didn't work at a boxing gym, playing trombone on the weekends. I'll never forget when we moved to LA and drove cross-country. It feels like we've come so far but it also feels like such a short amount of time.
What's been the best moment so far? 
Amy and Nick: New Year's Eve.
Nick: New Year's Eve, there was a man named Paul McCartney in the audience who was front row at our show and I gave him a high five.
Amy: I actually thought Nick was going to throw up.
Nick: He came around backstage to seek us out and tell us we were awesome. He was like, "I love the record, amazing performance." [Ed Note: Nick spoke in a British accent when quoting Paul McCartney.] It was awesome.
And finally, "Acapella" is playing on my iPod, but what's playing on your iPods? 
Amy and Nick: Pharrell, Missy Elliot, "Drop It Like It's Hot," all the fun stuff!
Image via Instagram
More Interviews From Beauty High:
Miranda Kerr's 7 Minute Fitness Plan and Her Secret to Flawless Skin
Cara Delevingne's Fast Food Prep For the Victoria's Secret Fashion Show
Chrissy Teigen Will Definitely Be Taking Xanax Before Her Wedding