For a man like Karl Lagerfeld, notoriety doesn't come without a few quirks. But in a recent interview with Harper's Bazaar he explained his odd beauty habits, why he needs his beauty sleep and the deal behind that famous ponytail.
"I sleep seven hours. If I go to bed at two, I wake up at nine. If I go to bed at midnight, I wake up at seven. I don't wake up before—the house can fall apart, but I sleep for seven hours," Lagerfeld explained.
We guess being the designer for a house like Chanel comes with a few perks (like sleeping in), but what really shocked us is how he does his hair. "I have my hair done because I hate to have hair in my face when I sketch," explained Lagerfeld. "My hair is not really white; it's kind of grayish, and I don't like the color. So I make it totally white with Klorane dry shampoo. That is the best thing to do because my hair is always clean."
Odd, but slightly ingenious if you think about it. The man's hair may always be spit-spot clean, but that doesn't mean he forgoes his daily bath. "I don't get dressed and take a bath until lunchtime because I am doing a dirty job, painting with colors," he said. "When I'm ready, I soak in the bathtub, if you really want to know. I used to have a product I loved, by Shu Uemura, but they don't make it anymore, so I found a French product that softens the water; it's a hundred years old. I put half a bottle in the bathtub."
Lagerfeld's routine seems simple enough, but one look at the bathroom sink below and we know he's been holding out on us. True Life: Karl Lagerfeld is a beauty product hoarder.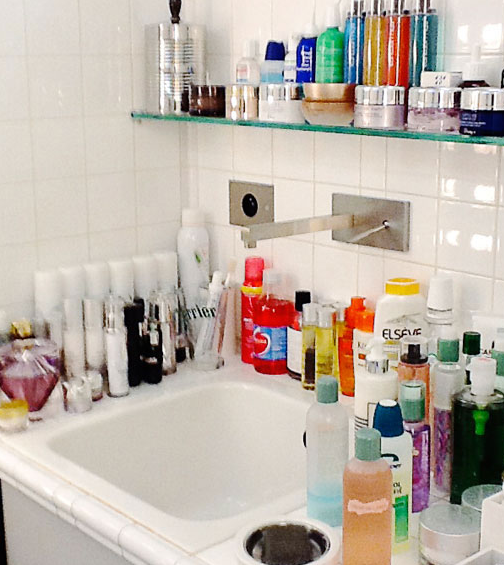 Images via Harper's Bazaar