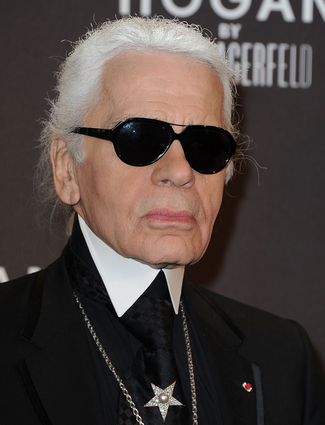 Photo: © Pascal Le Segretain/Getty Images
Karl Lagerfeld is already a genius in our eyes, but now he's taking things one step further by partnering with Shu Uemura for a new, kick-butt makeup collection. Talk about a fierce combination!
5 Ridiculously Weird Fragrances
It comes as little surprise to the beauty world that these two would team up, as Karl has long used the Japanese brand's products in his sketches and illustrations. The results of these sketches? A fabulous new collection.
"I use their eye shadow colors for my sketching. It's better than pastel; nobody has colors like that," the Chanel designer told WWD. For this collection he "wanted to invent [his] personal vision of a Japanese manga." But just because he has a vision, doesn't mean you can't make this cosmetic line your own. He said the products can be mixed and matched "like a little collection," to create a look that's unique to you.
So what can we expect from the dynamic duo? Karl has created two different eye-and-cheek palettes, one based on a smoky green color and another on a smoky purple. The line also includes dark, purple gel eyeliner, four lip shades (Mon Shu Red, Luxe Burgundy, Celebrity Beige and Parisienne Pink), false eyelashes, and three nail colors (Karl Black, Shu Shu Red and Royal Beige), which are sold with a strip of nail stickers. As if that wasn't cool enough, Shu Uemura then mixed a special red hue just for the designer to use in this collection. 'Cause you can ask for that stuff when you're Karl Lagerfeld.
New Product Alert! YSL Facebook-Inspired Palette
"Red is a symbolic color for Karl Lagerfeld, because he always dreamed of a red eye shadow to make his sketches. So they created it in this palette for him," said Ludovic Engrand, Shu Uemura's expert make-up artist.
The collection, which we assume will be nothing short of iconic, will be carried in 18 countries while supplies last, or until February 2013. Will you invest in Lagerfeld's latest creation?