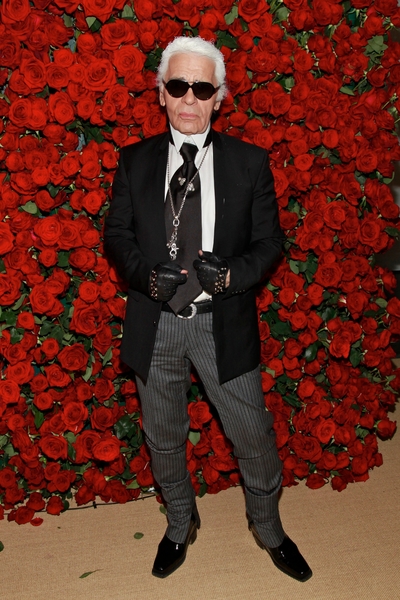 Photo: Charles Eshelman/FilmMagic
We recently judged Kristen Stewart for going all M.I.A. on Karl Lagerfeld, but now we're not so sure. It's totally possible he called her fat, Russian-ugly, or a pregnant bimbo. Unless he just reserved those comments for Adele and the rest of his self-edited edition of Metro, which went on sale today. Here are more words of infinite wisdom from our favorite controversial German designer (there's a lot of competition for that title).
Which celebs are dying to wear Victoria Beckham at the Oscars?
On modern singers Adele, Lana Del Rey, and Florence Welch: "I prefer Adele and Florence Welch. But as a modern singer she is not bad. The thing at the moment is Adele. She is a little too fat, but she has a beautiful face and a divine voice. Lana del Rey is not bad at all. She looks very much like a modern-time singer. In her photos she is beautiful. Is she a construct with all her implants? She's not alone with implants."
On the need for Russian lesbianism: "If I was a woman in Russia I would be a lesbian, as the men are very ugly. There are a few handsome ones, like Naomi Campbell's boyfriend, but there you see the most beautiful women and the most horrible men."
Try on celebrity hairstyles in the Makeover Studio
On middle fingers and cover girls (he gives the former to the later): "Nowadays people give the middle finger quite quickly – it's not the best behavior. Everybody does that, what's new about that? It's just become a bad habit. People in magazines are 50% bimbo and 50% pregnant women."
On Michelle Obama's "magical" power: "Yes he does, especially because of Mrs. Obama. I'm a big fan of Mrs. Obama – and her face, I think, is magical. He would not be there without her. Mrs. Obama is not a fashion statement, but she has other things to do. My favorite thing about Mrs Obama was when she was asked if her skirt was not too tight and she answered "Why you don't like my big black ass?" I want [Barack] Obama to win because there is nothing better anyway, and especially because of her."