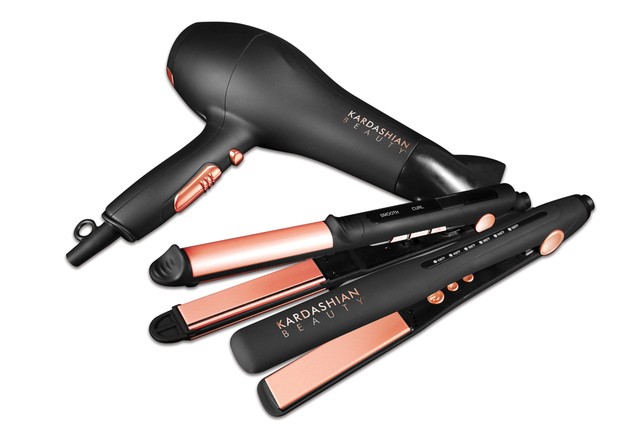 Not to anyone's surprise, the Kardashian's sisters are expanding their empire once again, this time launching hair products with the hair care company Farouk Systems Inc. While the reality stars may be most well-known for their contouring skills (and fabulous lashes) their gorgeous hair is certainly not lacking – and while we can't all have professional hairstylists at our beck and call, now we can at least have the hair tools that they love.
The line, launching in the spring was developed with the Kardashian Beauty fans needs in mind said the sisters in a joint statement. "Our personal desire for healthy, beautiful hair and hands-on product development has allowed us to design products we felt were missing in the market."
MORE: Ask an Expert: How Can I Contour Like a Kardashian?
Basim Shami, chief executive officer of Farouk Systems Inc told WWD that he thought the partnership with Kim, Kourtney and Khloe was a natural fit for the brand. "Our team worked hand-in-hand with the sisters to create a premium product line directly inspired by their iconic styles and individual hair needs."
We're interested to find out how much the new hair tools will sell for, but in the meantime let us know if you'll be planning on buying them in the comments below!
UPDATE [8/29/2014]: In a more recent interview with WWD, Kim Kardashian spoke about the hair care products in the new line, specifically the hair oil. Of the oil and her baby North, she said, "I just started using our oil because I needed to slick it [her hair] back and make it stay. I just use a drop of it, but then she brushes it and likes to mess it all up."
[WWD]