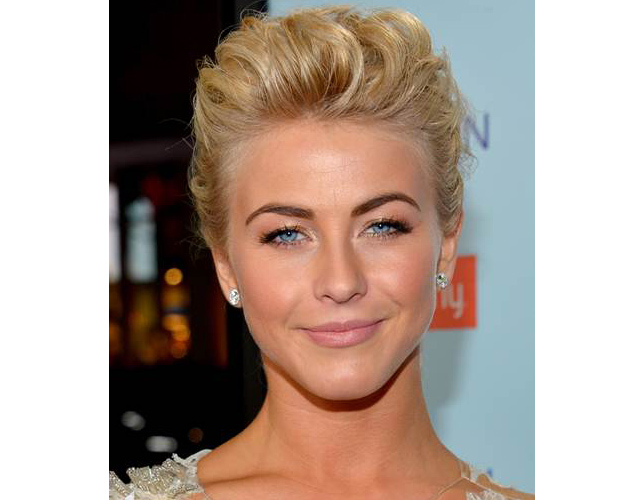 Julianne Hough has been stunning on the red carpet lately, showing off her tousled bob and an array of makeup looks. We're constantly looking forward to what's to come next from Hough, and with her upcoming movie "Safe Haven," premiering on Valentine's Day she is making the red carpet rounds once again. Last night for the New York premiere Hough chose a gorgeous Alberta Ferretti dress with sheer detailing and her hair was pulled back into a voluminous updo. Makeup artist Spencer Barnes used Votre Vu products to create an ethereal look that was in line with the shimmering dress.
Below, he explained to us how to get the look in complete detail, from skin care to lips!
"I started by prepping Julianne's skin with the Votre Vu Attentive Skincare Line for sensitive skin.  She was extremely happy with the result from the products because she was feeling a bit under the weather and felt her skin was originally looking a bit lackluster. The product that I liked the most was the Attentive Crème du Jour, which I applied with a foundation brush in order to get a very even veil. We wanted the focus to be her eyes, so we went with a very natural face. I applied the Votre Vu Love Me Deux in Provence all over to give her skin a youthful, luminous, lightweight look.
Then to give her a little color back, I took the Vu-On Rouge in Bouquet Rose and used my fingers to warm it up on the back of my hand, then blended it onto the apples of her cheeks. This skin-on-skin application made it softer and sheerer. Then I took a lip brush and applied the Vu-On Rouge in Bouquet Rose directly onto her lips with it.  The brush gave greater control and a heavier application for denser color. I finished her lips off with a pale nude gloss to give it a bit more moisture and then set her face with the Belle Poudre HD Sheer Face Powder in Medium.
Next, I used the Beauté en Bronze duo and used a larger powder brush to give her a little kiss of sun and then an angled brush to sculpt the sides of the face, cheek bones, neck and jawline. Then I took the blush and applied it right on the apples of the cheeks.  Placement was key with this duo to get the dynamic quality of them playing off of each other.
Now for her eyes, the focus of the face. I prepped her lids with a nude shadow base.  Then took the Le Joli Crayon in Aubergine and smudged it into her upper lash line.  Then using a trio of eye shadows from Face Atelier, I created an iridescent look of pale silver, pink/gold, and deep brown. Lastly, I curled her lashes, applied the Eiffel Power mascara and then finished off with her brows using the Arch de Triumphe in Fair. To set her face for the night, I used the À Votre Santé Refreshing Spray. When she got into the dress, it was apparent that the look had come together perfectly."
What do you think of Hough's look? Do you agree with us that she's been looking fabulous on the red carpet lately? 
[Image Courtesy of Votre Vu]