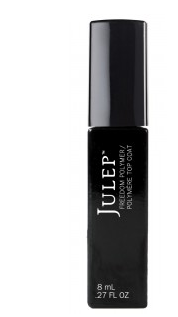 At Beauty High we constantly have new products crossing our desks and are always on the hunt for the next best thing. "The One Thing" is our way of sharing with you that must-have product that you need to introduce to your lives right now, even if it means skipping Starbucks for a couple of days.
Nothing hurts more than a mani that chips after two days. It's heart-crushing, and what's even more upsetting is trying to soak off an old gel manicure. My wallet and my nails were very thankful for the Julep Freedom Top Coat. This "polymer force field" creates a finish that leaves nails chip free, shiny, and strong for days longer than your regular top coat. It performs as a gel, without all the hassel.
The consistency is that of a polish, but there is no thick goop. It dries super quick and is recommended to be put under a 60 watt light bulb for two minutes, but can be dried in natural light as well.  It comes packaged in a super sleek bottle, that allows the product to be safe.  The black bottle protects the formula inside from the light and makes sure it remains pliable.
What Makes It Different:
You can have gel-like nails with no hassle or salon trip.

The formula contains no formaldehyde, formaldehyde resin, toluene or DBP.
The top coat can be removed with any nail polish remover, including gentle ones such as the non-acetone based.
Why It's The One Thing:
When time and money is saved, how can you not try to tell the world?  A good top coat is a staple in any girl's life for the perfect at home manicure.
Where to buy: You can purchase this online at julep.com for $14.40. 
image via julep