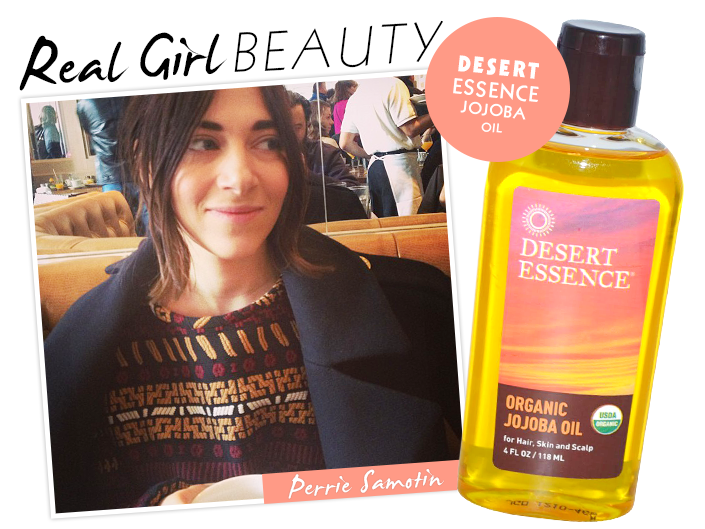 Going backstage and learning tips and tricks from the professionals may be an adventure, but sometimes, the best tricks come from real girls. In "Beauty and the Real Girl," we learn the best beauty tips, tricks and secrets from girls just like us.
As much fun as we have testing out new products practically every day, our skin doesn't always love us for it. Even ladies with the most glowing, perfect skin can experience some serious irritation once too many products enter the mix, and we all could use some skin saving. Recently, we started chatting with Perrie Samotin, senior editor at StyleCaster, about the issue and found out that she's figured out exactly how to get her skin back on track. Below is Perrie's secret weapon.
MORE: How to Get Glowing Skin in 10 Easy Steps
"Testing out beauty products has often been a big part of my life," Perrie told us. "However, I noticed a few years ago that my skin wasn't too thrilled with me. It seemed that pretty much every night, I was taking home a new serum, treatment, night cream, eye cream—and trying them all. I know it was totally my own fault, as many a dermatologist has told me that your skin needs ample time to adjust to a new product (the operative word being "a" new product—not 12). As a result of this hoarding, I starting to break out and look dull. Clearly, a change was needed.
I've always been interested in the idea of using natural oils on your skin, and I did some research and discovered jojoba oil. Technically, it's not an oil, but rather a wax ester, which is the only compound in nature that's super-similar to human skin oil (sebum). This means that applying jojoba to the skin can "trick" it into thinking it's producing enough oil, thus balancing oil production. It's non-comedogenic and cleared up my skin almost immediately, so I always keep a bottle on hand for break-outs, and it always works wonders."
Image Courtesy of Perrie Samotin 
Where to Buy: Desert Essence Pure Jojoba Oil, $13.99, DesertEssence.com