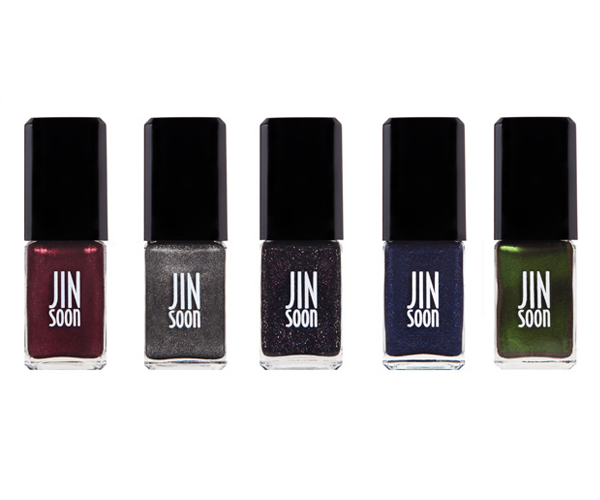 Nail legend Jin Soon Choi, who is the artist behind the tips of many a "Vogue" cover and the owner of two of the most beloved NYC nail salons (both in her namesake), has gone on to impress us yet again with her latest nail collection. This time Jin has collaborated with the designers behind Tibi to launch a 6-piece fall line that will be sold both in Tibi stores and online. Jin took the utilitarian feel of the collection and morphed it into five gorgeous metallic shades for fall along with a matte top coat – giving a touch of texture to the line.
We spoke with Jin about the new collaboration and how it came about as well as this trend towards textures for fall. Plus, she filled us in on what she thought we may see more of during the upcoming Spring 2014 fashion week shows. Read on below!
Beauty High: We love the new polishes! How did this collaboration come about? 
Jin Soon Choi: I wanted to have a collaboration with a designer who is into simplicity. Who is into simple, elegant looks. And as you can see, their collection is very simple, elegant…totally a fit for Jin Soon. So we said "OK, that's good."
When I met them, their ideas were totally different than I had expected. I wanted to introduce beautiful shimmer for fall/winter and their ideas were like a modern, utilitarian looks. That's how I came up with the matte topcoats. Right away it just hit me, without knowing it would be trendy.
Why do you think there is such a trend towards texture?
Crazy 3D nail art isn't great for every day wear and it doesn't fit all age groups so I always simplify the looks and try to deliver more elegant looks that all age groups can enjoy. I always think about that. I want to deliver more in simple art so people can enjoy it. Even women who cannot wear crazy nail art at work, like a lawyer, I want them to enjoy nails too. I can do a matte finish or just simple nail art that they can have while they are working.
Can you make any predictions as to what we will be seeing this Spring Fashion Week?
A lot of different finishes in texture. A lot of brights and a lot of texture. Not too crazy with the texture though. We'll see a lot of hints of texture within the nail art.
More From Beauty High:
101 Nail Art Ideas From Pinterest
10 Stiletto Nails You'll Want to Try
8 Easy Nail Art Ideas For Summer