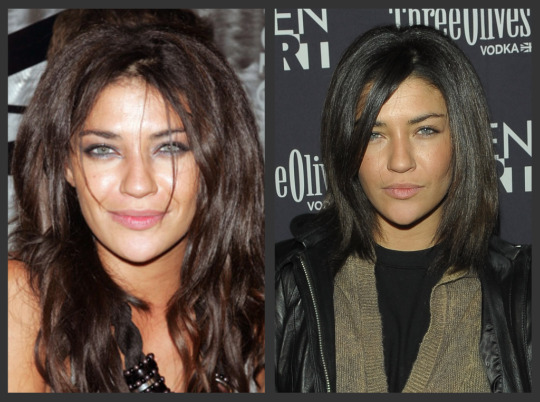 Before -circa July 2009
Photo: Jim Spellman/WireImage.com
After- circa January 2010
Photo: Stephen Lovekin/Getty Images
There was a time when I could call myself a rabid fan of the steamy teen drama Gossip Girl. Every Monday night you could catch me plopped down in front of my TV to see what kind of crazy shenanigans the Upper East Side crowd was getting in to. Recently my love of the show has started to wane, something I attribute to a combination of lackluster storylines and the horrendous state of Jessica Szohr's hair.
Don't get me wrong, I think Jessica Szohr is gorgeous, I just can't stand behind those tattered things she calls extensions. Just because she plays Vanessa, the artsy Brooklyn outsider, doesn't mean she needs to embody a grungy hipster. In the past couple of years she's looked like she's either halfway to growing some really gnarly dreads or like she's been sleeping in her car.
So imagine my delighted shock when I saw she had decided to ring in the new year with a sleek new 'do. Gone are the bedraggled extensions (good riddance) and in their place is a chic, gorgeous bob that accentuates her amazing eyes and exotic features. This is yet another case of long-does-not-always-mean-better (see also: Selena Gomez, Drew Barrymore). Super-long hair, especially extensions, can drag down your face and sometimes give you an unkempt look. By cutting off all those inches, Jessica helped shed her shaggy style and embraced a hip new 'do. Let's hope Gossip Girl can do the same.
What do you think of Jessica's hair makeover?</p.