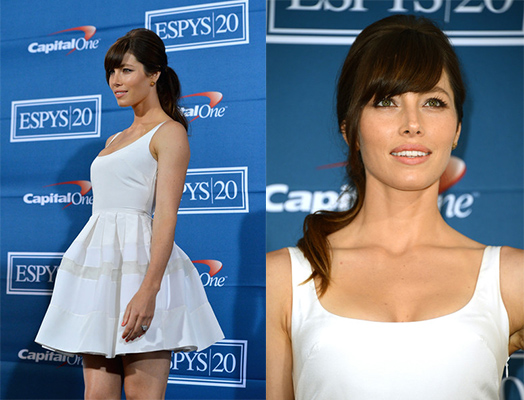 Jessica Biel looked amazing at last night's ESPYS – her pre-wedding white dress and voluminous pony was by far one of our favorite looks. She brushed her signature blunt bangs to the side and opted for a voluminous ponytail. Along with her flirty white dress, Jessica embodied the perfect summer look. Her hairstylist, Mara Roszak, gave us the scoop on how to achieve her look.
"I usually like to blow dry the bangs first while they are still damp because they are easier to manipulate before thoroughly dry," said Roszak. "Apply Phyto Volumactive root spray to damp hair and blow dry with a round brush, creating pin curls after each section. Spray all over lightly with Moroccan Oil Hairspray light. Remove the pins and gently brush out. Tease the crown and pull back into a mid-height pony. Wrap a bit of hair around the elastic and spray all over with Moroccan oil hairspray light."
We think that this look that Roszak created for Jessica Biel last night is simple enough that you could try at home — what do you think?
[Courtesy Image]