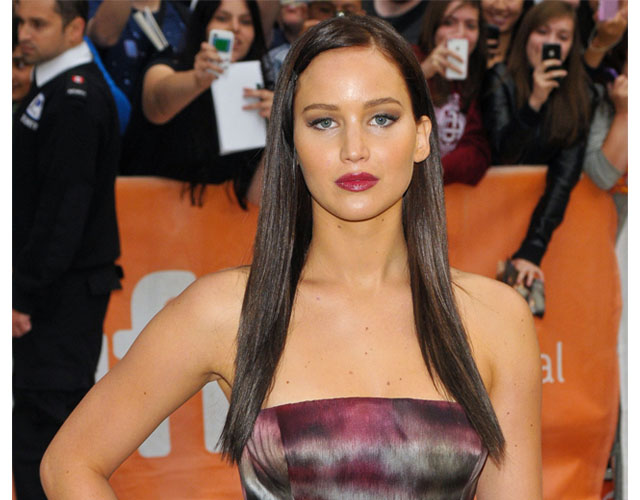 We pretty match track Jennifer Lawrence's every move (we're Hunger Games obsessed, if you're not you're missing out) and we think she captures Katniss Everdeen's look perfectly. So, seeing that she has changed her dirty blonde locks to a deep brunette (it has been a gradual change over the past few months) shows us that the shooting for Catching Fire is under way.
Lawrence debuted the new look at Toronto's International Film Festival over the weekend, where hairstylist David Babaii helped give her a sleek, side parted style. Babaii wanted to create a "high fashionista look" to show off her shiny hair. He used a small amount of IT&LY's Pure Water Drops in the palm of his hands before applying through the hair and then dried her hair with a round brush to smooth completely straight. He then finished by straightening with a straightening iron to ensure the hair was stick straight. For one final step, Babaii took a toothbrush and sprayed it with IT&LY's Pure Definition hair spray and gently brushed the top layers of the hair to stick down flyaways and define the side part.
Do you like Jennifer's new shade? Let us know in the comments section below!
[Image via SIPA/Admedia]