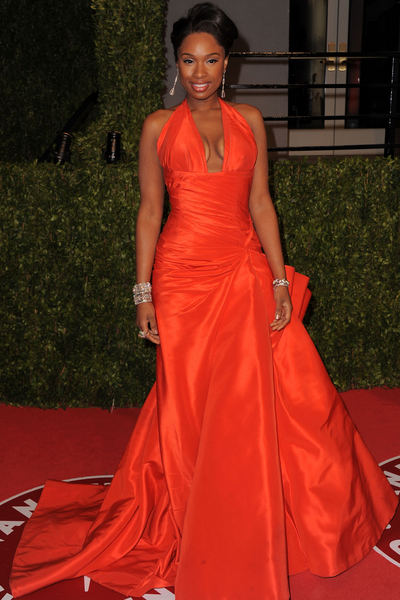 Photo: © Jordan Strauss/WireImage
Bright colors were dominant on the 2011 Oscars red carpet, with Jennifer Hudson standing out in her orange dress.
The singer-and-actress showed off her new slim figure in a stunning floor-length gown by Atelier Versace.
See who made our list of the best-dressed at the Oscars!
Sandra Bullock–who won the Best Actress accolade at last year's ceremony–also stood out on the red carpet at Los Angeles' Kodak Theatre in a bright red strapless Vera Wang dress, which she chose because she wanted her 13-month-old son Louis to recognize her on TV.
She said, "I chose this Vera Wang gown because my son recognizes the color red, so I figured if he saw me on television he'd look at me instead of Gwyneth (Paltrow) or Nicole (Kidman), which is what usually happens."
Best Actress winner Natalie Portman showed off her growing baby bump in a purple Rodarte dress, while British star Dame Helen Mirren stayed true to her roots by wearing Vivienne Westwood.
She said of her choice, "I'm flying the flag to support British fashion. She just opened a store here in Los Angeles so I wanted to show everyone how beautiful her dresses are."
Penelope Cruz made her first red carpet appearance since the birth of son Leo last month by looking stunning in a sparkly maroon L'Wren Scott dress, while Halle Berry, Nicole Kidman and Michelle Williams opted for neutral and white shades.


Try on Oscars hairstyles in the Makeover Studio!